Sports
Alcaraz will learn from French Open anguish, Djokovic says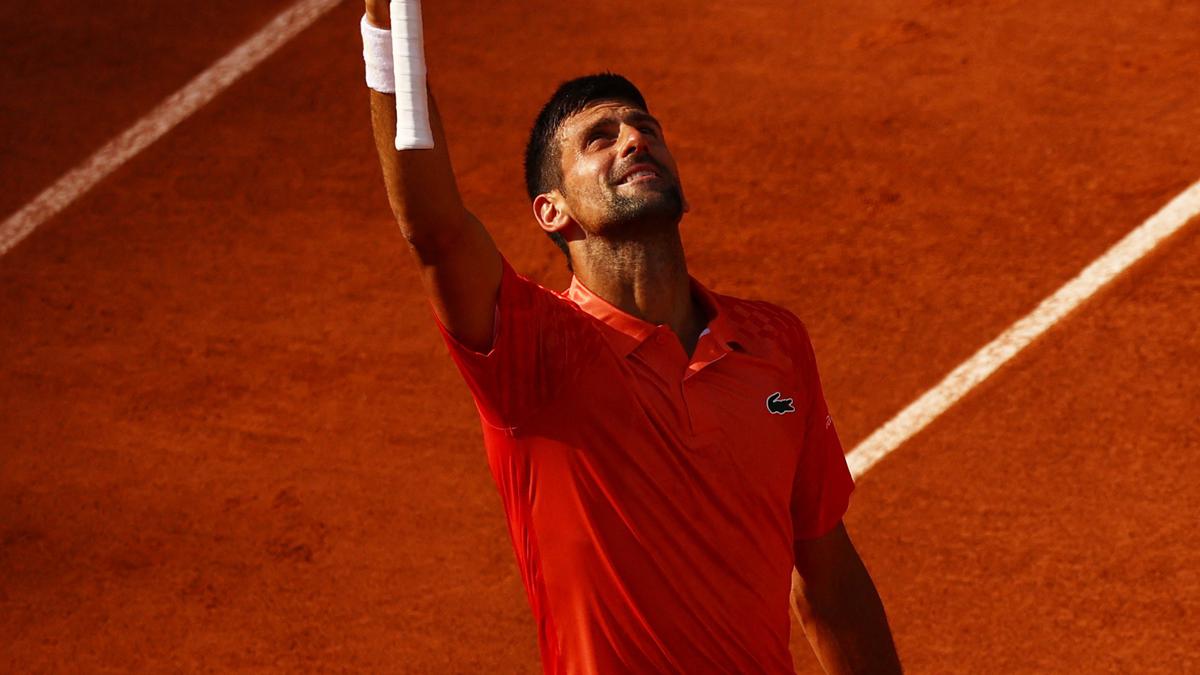 Serbia's Novak Djokovic celebrates winning his semi-final match against Spain's Carlos Alcaraz. | Image Credit: Reuters
Novak Djokovic has backed Carlos Alcaraz to win the French Open "many times" after the young Spaniard suffered severe cramps that derailed his title hopes in Friday's semi-final loss to the 22-time Grand Slam champion.
The 36-year-old Djokovic, chasing a record 23rd men's Grand Slam title and third Roland Garros crown, beat an ailing Alcaraz 6-2, 5-7, 6-1, 6-1 to become the oldest men's finalist in Paris since Bill Tilden in 1930.
But the much-anticipated showdown ended in a sorry anticlimax with the 20-year-old Alcaraz plagued by "full-body" cramping that severely limited his movement in the third and fourth sets.
"It was very demanding physically for both of us, and things like that physically, cramps or whatever he was struggling with, can happen," said Djokovic, who will meet last year's runner-up Casper Ruud in his 34th Grand Slam final .
"Respect for him for hanging in there until the last point, really. It was obvious that he was struggling with his movements.
"It's sad for people, it's sad for a match that's this important for both of us, but that's sport. It happens when you play at such a high intensity like we both did, I thought for the first two sets. It was very even. ."
Alcaraz's physical struggles took the edge off the suspense as he fought back well to continue after a thrilling first two sets, with Djokovic dominating the opener before the Spaniard struck in the second.
The world number one clutched his right calf as Djokovic held serve for 1-1 in the third set, effectively handing his rival the next game instead of jumping the changeover.
Alcaraz was a shadow of the unflappable, all-action player who started the match, barely able to move as Djokovic gasped for the rest of the set.
He returned for the fourth set after a bathroom break looking more mobile, but after Djokovic saved a break point in the opening game any lingering resistance by Alcaraz subsided.
Alcaraz later admitted that the tension was caused by nerves and the challenge of playing Djokovic, sympathizing with his younger rival.
"I've experienced that a few times. Early in my career I was struggling physically. I can understand the emotions and circumstances that affect you mentally and emotionally," said Djokovic.
"Being one of the greatest tournaments in the world, maybe for the first time in his career he is expected to win. Maybe he's not an underdog chasing the title and trying to win against a favorite, but it's probably the other way around . around.
"So maybe that affected him, you know, and as he said, it probably did.
"But it's a part of the learning curve. It's part of the experience. He's only 20."
Djokovic has a chance this Sunday to break the record he shares with Rafael Nadal for most men's Grand Slam titles, but the Serb insists Alcaraz has plenty of chances at the French Open.
"I told him he has a lot of time, and I'm sure he will win Roland Garros many times in the future," Djokovic said.
"I have no doubt about it. I mean, he's an amazing player. Just possesses so much quality, so dynamic, so much power in his shots, very complete player.
"He has already won a Grand Slam. He's the youngest ever No. 1 in the history of the game. You know, there's a lot to be excited about for him for the future."