Sports
Badminton king Viktor Axelsen won the Malaysia Open title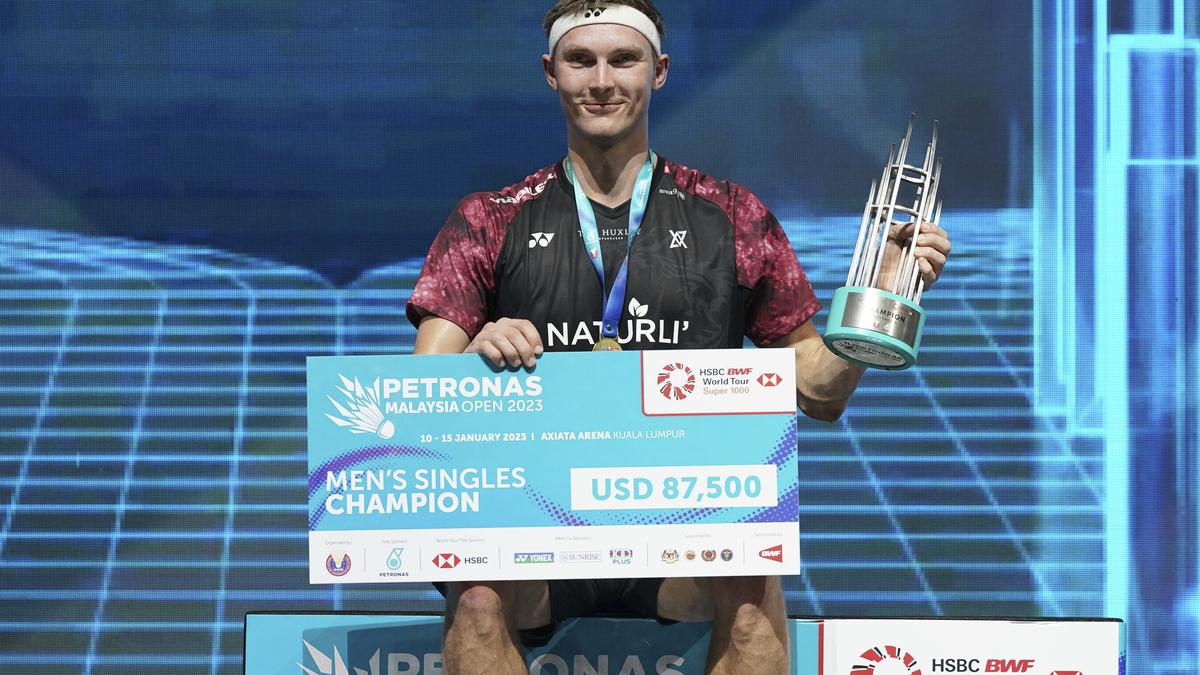 Denmark's Viktor Axelsen celebrates with his trophy after defeating Japan's Kodai Naraoka in their men's singles final badminton match at the Malaysia Open badminton tournament at the Bukit Jalil Axiata Arena in Kuala Lumpur on January 15, 2023. | Photo Credit: AP
Danish ace Viktor Axelsen stormed to victory in the final of badminton's Malaysia Open on Sunday, successfully defending his title by beating Japan's Kodai Naraoka.
The world number one needed just 40 minutes in Kuala Lumpur to claim his first trophy of the year, showing top form to walk away from the match 21-6, 21-15.
Wasting no time in the first game, Axelsen immediately went on the offensive, raining down his signature pinpoint smashes on a defenseless Naraoka.
He then kept up the pressure in the second game against a visibly tired opponent to clinch the win.
Axelsen admitted fatigue may have been a factor in the match, with Naraoka playing a mammoth 113-minute semi-final just a day earlier.
"His legs look tough because of the long match he played. For me, that's a good thing," Axelsen told reporters.
"I just tried to play consistently at a high pace, and not give him many chances. If he wants to win, he has to work hard."
The reigning Olympic champion has been badminton's standout performer in the past year, winning eight titles in 2022 including the All-England and World Championships.
But he said Sunday that there are plenty of strong players who could surpass him, though he declined to name names.
"You can't predict who's going to be good. For me it's just about minding my own business, trying to do what works for me and keep improving," he said.
Naraoka, who played 362 minutes in the tournament before his showdown with Axelsen, said the run took its toll on his body.
"I did feel tired going into this game, but I still did my best. But he used his height well, and his smashes were too strong for me," said the world number seven.
Their match-up follows a hard-fought semi-final between the two at the World Tour Finals last month.
In the women's final, Japanese player Akane Yamaguchi won the title by defeating South Korea's An Se-young 12-21, 21-19, 21-11.