Sports
Danneberg, Grambusch brothers star in Germany's shoot in England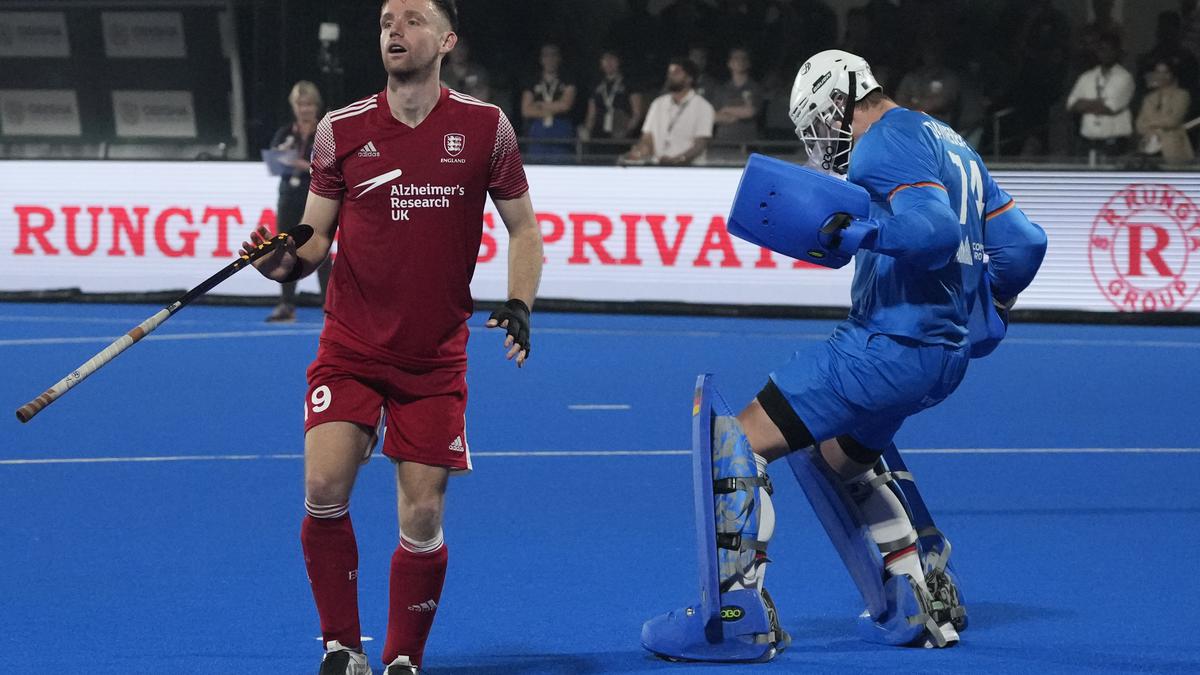 Germany goalkeeper Jean-Paul Danneberg, right, celebrates after saving a goal as England's David Goodfield reacts, during the FIH Men's Hockey World Cup quarterfinal match between England and Germany at the Kalinga Stadium in Bhubaneswar , India, Wednesday, Jan. 25, 2023. | Photo Credit: AP
It took just forty seconds for Germany to score twice and equalize first, then knock England out of the World Cup on Wednesday in the shootouts, reiterating its credentials as one of the most dangerous teams in world hockey and made it to the first semifinal since finishing runner-up in 2010.
England led 2-0 with three minutes remaining but the teams finished level at 2-2 before Jean-Paul Danneberg, who came on as substitute goalkeeper in his first game in the competition, made two crucial saves. save in his short seven. -match of the international race as Germany converted all four of its attempts to go through. It was a result that looked unlikely throughout the game as England dominated with a defensive masterclass and steely control in midfield.
For most of the first half, the game was limited to the midfield as the teams played percentage hockey, seeking to test the opponent and making only occasional forays into each other. One in the 11th minute saw Stuart Rushmere slotted into the backline and, juggling in the air with impressive 3D skills, passed the ball to Zachary Wallace who slammed it into the net.
Germany were hardly given space to move in a closed game and with their key players including Christopher Ruhr, Niklas Wellen and Marco Miltkau blocking at all times, the team lacked its usual pace. It improved in the 2nd quarter and, despite a solid England defence, earned two penalty corners but Gonzalo Peillat failed to score.
The game picked up the pace after the break as Germany switched to shorter and more diagonal passes to break down but England also stepped up their attack to gain back-to-back PCs and increase by 2-0 two minutes after the restart. With five and a half minutes to go, German coach Andre Henning took the goalkeeper in search of a goal and was rewarded with a penalty stroke in the 56th minute which Ruhr incredibly saw hit the crossbar.
Luck seemed to favor England but that was before Wallace picked up a card a minute later. Reduced to nine against 11 outfield players, England first saw Mats Grambusch reduce the margin then concede another stroke, this time brother Tom made no mistake. Germany even got a PC in the last 28 seconds but had to wait until after the shootout to celebrate.
Later, the Dutch took their time to keep up with a scrappy Korea who pushed them hard but took control as the match wore on, winning 5-1 in search of their fourth consecutive World Cup medal. The Germans next take on Australia in the semifinals in a repeat of their Tokyo Olympics clash, hoping to avenge their loss 18 months ago and make their first final in 13 years while the Dutch face Belgium in a replay of title of the previous edition. clash.
The results (quarterfinals): Germany 2 (Mats Grambusch 57′, Tom Grambusch 58′) bt England (Zachary Wallace 11′, Liam Ansell 32′) on penalties; Netherlands 5 (Koen Bijen 27′, 31′, Justen Blok 36′, Steijn van Heijningen 50′, Teun Beins 58′) bt Korea 1 (In woo Seo 51′).