Sports
Duleep Trophy Final: South Zone rallied after taking a handy first-innings lead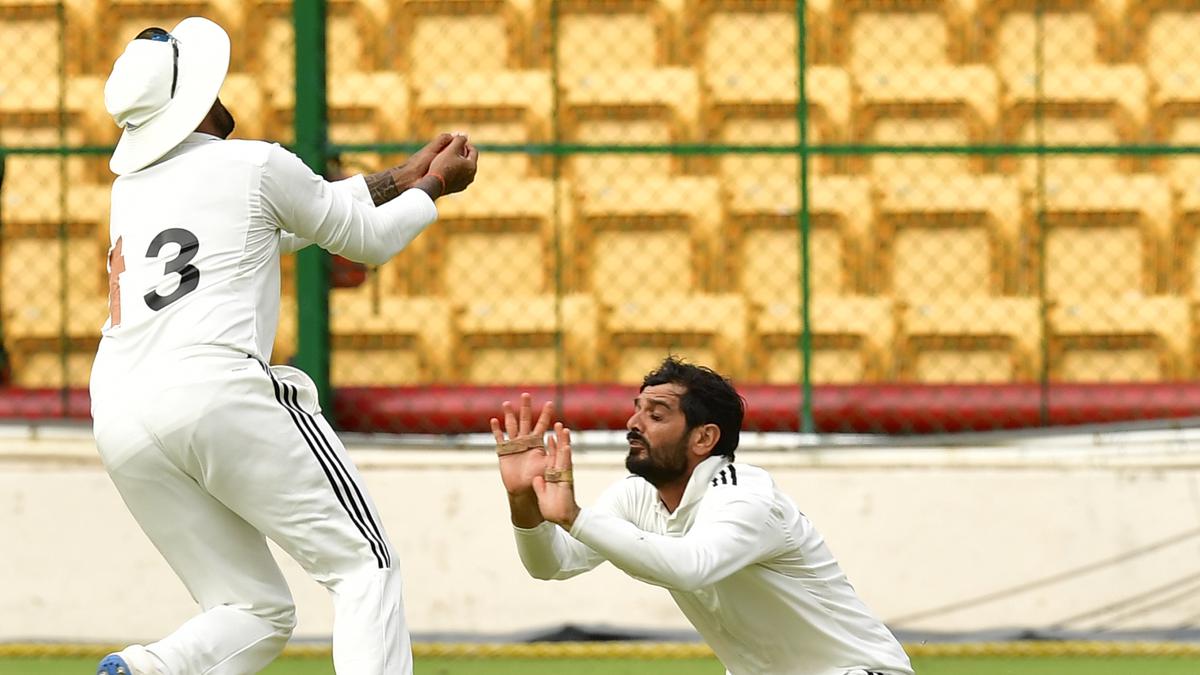 South Zone tightened its grip on West Zone on the third day of its Duleep Trophy final at the M. Chinnaswamy Stadium here on Friday.
Easy contributions from Mayank Agarwal (35), Hanuma Vihari (42), Ricky Bhui (37) and Sachin Baby (28) took South to 181 for seven in the second innings, giving the side an overall lead of 248 .
The morning session belonged to South pacer Vidwath Kaverappa, who claimed a First Class career-best haul of seven for 53. West could only add 17 to its overnight tally as Kaverappa cleaned up the three remaining wickets in quick time.
The South batters then rallied to a handy 67-run innings lead. Mayank and skipper Vihari rescued South from a dangerous eight for two with a 64-run third-wicket stand.
Mayank was scalped by left-arm pacer Arzan Nagwaswalla, but the opener was not quiet. After pulling a short ball to leg gully, Mayank convinced Nagwaswalla to make a mistake by hitting the third bouncer for an over.
The third umpire, Saidharshan Kumar, ruled that it was a legal delivery. An annoyed Mayank marched to the match referee's cabin to protest.
Also, disaster was averted when Suryakumar Yadav ran into teammate Arpit Vasavada when he took an excellent catch to dismiss Sai Kishore. Vasavada was lucky to avoid serious injury as Suryakumar's knee almost caught the substitute fielder's head. Vasavada, who was treated by medical staff for a bleeding nose, left the field clutching his wrist in pain.
Only 66 overs of play were possible, as spoilsport played in bad light.
The scores: South — 1st innings: 213.
West — 1st innings: Prithvi Shaw c Kaverappa b Vyshak 65, Priyank Panchal c Mayank b Koushik 11, Harvik Desai c Bhui b Kaverappa 21, Cheteshwar Pujara c Samarth b Kaverappa 9, Suryakumar Yadav c Vihari b Kaverappa 8, Sarfaraz Khana lbw b Kaverappa Bhui b Kaverappa 12, Shams Mulani c Bhui b Vyshak 0, Dharmendrasinh Jadeja b Kaverappa 6, Chintan Gaja (not out) 4, Arzan Nagwaswalla c Bhui b Kaverappa 0; Extras (b-7, lb-3): 10; Total (in 51 overs): 146.
Fall of wickets: 1-27, 2-97, 3-101, 4-114, 5-116, 6-123, 7-124, 8-137, 9-146, 10-146.
south bowling: Sai Kishore 7-1-24-0, Kaverappa 19-5-53-7, Koushik 10-1-26-1, Vyshak 15-0-33-2.
South – 2nd innings: R. Samarth b Gaja 5, Mayank Agarwal c Suryakumar b Nagwaswalla 35, Tilak Varma b Nagwaswalla 3, Hanuma Vihari c Desai b Sheth 42, Ricky Bhui lbw b Jadeja 37, Sachin Baby b Sheth 28, Washington Sundar (batting) 10, Sai Kishore c Suryakumar b Jadeja 16, V. Vyshak (batting) 1; Additions (lb-2, w-2): 4; Total (for seven wkts. in 60 overs): 181.
Fall of wickets: 1-5, 2-8, 3-72, 4-95, 5-154, 6-154, 7-179.
west bowling: Nagwaswalla 16-3-52-2, Gaja 15-2-40-1, Sheth 12-4-38-2, Mulani 5-1-22-0, Jadeja 12-3-27-2.