Sports
Haaland looks set to replace Messi and Ronaldo as soccer's next global superstar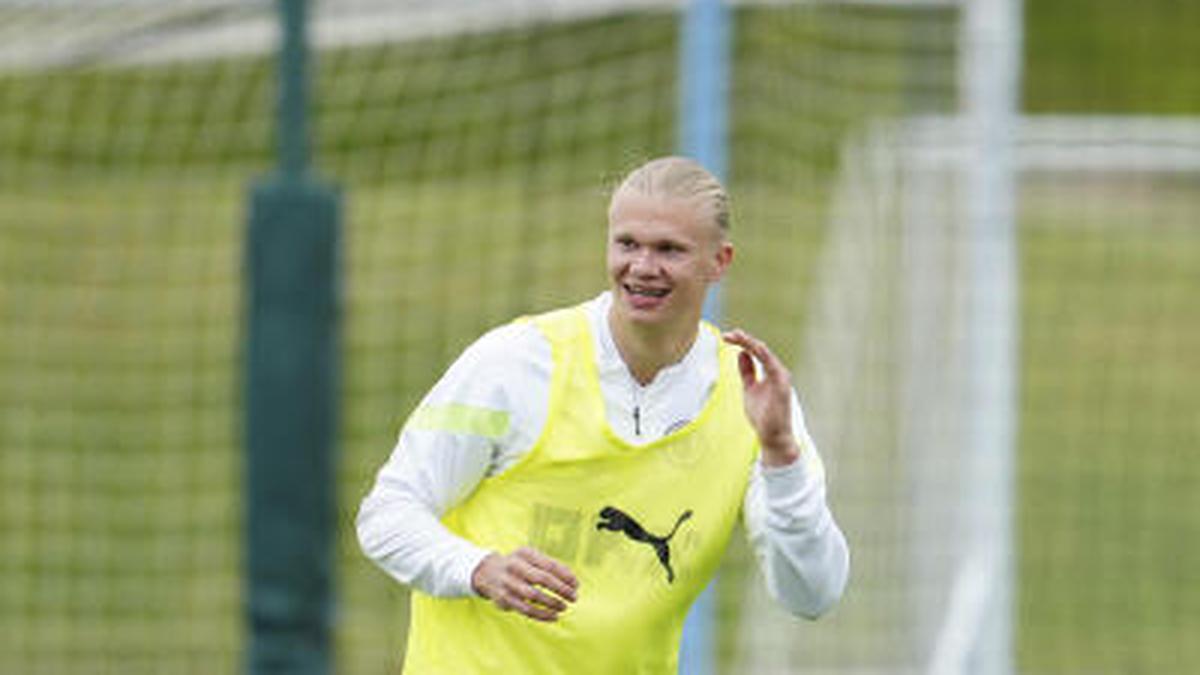 Manchester City's Erling Haaland smiles as he trains with teammates during a UEFA Champions League Media Day ahead of the upcoming Champion's League final, Manchester, England, Tuesday, June 6, 2023. | Photo Credit: AP
With Lionel Messi on his way to Inter Miami and Cristiano Ronaldo already in Saudi Arabia, it's time for soccer's next global superstar to step up.
Say hello to Erling Haaland, whose first season at Manchester City saw the Norwegian have a record-breaking first season as perhaps the deadliest goal-scorer in the sport.
On Saturday he can fire Pep Guardiola's City to their first Champions League title and a historic treble of trophies after winning the Premier League and FA Cup this season.
Perhaps only Paris Saint-Germain forward Kylian Mbappe and Real Madrid winger Vinicius Junior can challenge Haaland for the title of the world's best in the post-Messi and Ronaldo era.
Haaland has exceeded all expectations in his first season at City after signing from Borussia Dortmund in the summer.
His goal scoring talents are well known. European giants Real Madrid and Manchester United are among his admirers.
But his exploits at City defied belief at times and set new standards in England's top flight.
With 36 Premier League goals, he set a new benchmark in the division by breaking the record of 34, jointly held by Andy Cole and Alan Shearer. It has been standing for 29 years.
He scored 52 in all competitions, including six hat tricks.
Haaland's five goals against Leipzig in the Champions League matched the record held by Messi and Luiz Adriano for the most in a single game in European soccer's top club competition.
He also became the fastest and youngest player to reach 30 goals in the Champions League.
"His mentality is to score more, more," said City manager Pep Guardiola.
Although he is likely to be the player Inter Milan fear the most in Saturday's final in Istanbul, Haaland is on something of a drought heading into the game.
Just one goal in his last seven matches represents his worst run in five years, since he was a founding member of Norwegian team Molde.
The recent dry spell, however, has done nothing to dent the feeling that City's goal machine is one of the few players capable of taking over from Messi and Ronaldo as soccer's next global icon, especially as the 22- year-old Haaland is still developing. his game and honing his talent.
His all-round game has improved after gaining more understanding with his City teammates. He was outstanding, for example, in the 4-0 win over Real Madrid in the semifinals of the Champions League, despite not getting on the scoresheet.
Just as Messi and Ronaldo's rivalry has helped propel them to greater heights — sharing 12 Ballon d'Or trophies between them — Haaland's main competition for the title of No. 1 soccer player in the world will probably come from Mbappe and Vinicius. But while Haaland may not have their finesse or intricate footwork, his raw power, athleticism and scoring instinct set him apart.
And his unique appearance adds to his aura as an almost unstoppable force.
"I'm 1.96 (meters, 6-foot-4) tall and I have long blond hair so wherever I go, people see me," Haaland said.
The best players are judged by the trophies they win. Messi's World Cup triumph with Argentina in December has, for many, settled the debate over who is the best between him and Ronaldo, who has never won the competition.
Haaland is already playing catchup in terms of trophies compared to Mbappe and Vinicius. He is just one game away from adding the Champions League to his Premier League and FA Cup collection.
"This is why they (City) brought me of course to the club to get it," he told the BBC. "We don't have to hide that. I will do everything I can to make it happen."
Mbappe, a World Cup winner with France in 2018, will still do well in the Champions League.
Brazil star Vinicius won it last year in Madrid.
But with Haaland unlikely to win major honors in Norway, club titles and personal records are likely to be his chance to establish himself ahead of Mbappe and Vinicius as the best of his generation.
While that duo shows the potential for a long-term rivalry, Messi will probably provide the biggest challenge to Haaland if he is to win the Ballon d'Or this year.
Argentina's success at the World Cup could land Messi the world's best player award for a record-extending eighth time. A Champions League trophy could change that for Haaland.
Either way, Haaland looks set to be a contender for years to come as more records are sure to fall.
Not that filling Messi's shoes will be an easy task.
Even Haaland's impressive achievements this season fall short of Messi's most prolific campaign when he scored 73 goals in all competitions for Barcelona in 2011-12, including 50 in the Spanish league .
Meanwhile, Ronaldo scored 61 for Real Madrid in 2014-15.
"I'm really young. I'm still 22. I've got a long career ahead of me and I still have to develop," said Haaland.
Asked recently if he was now the best goal-scorer in the world, he was coy.
"I don't want to answer that. I think someone else should answer that," Haaland said. "But I've scored most goals this season, I think, so that's a good start."