Sports
"I take responsibility for this," Nitish Rana after KKR's defeat against DC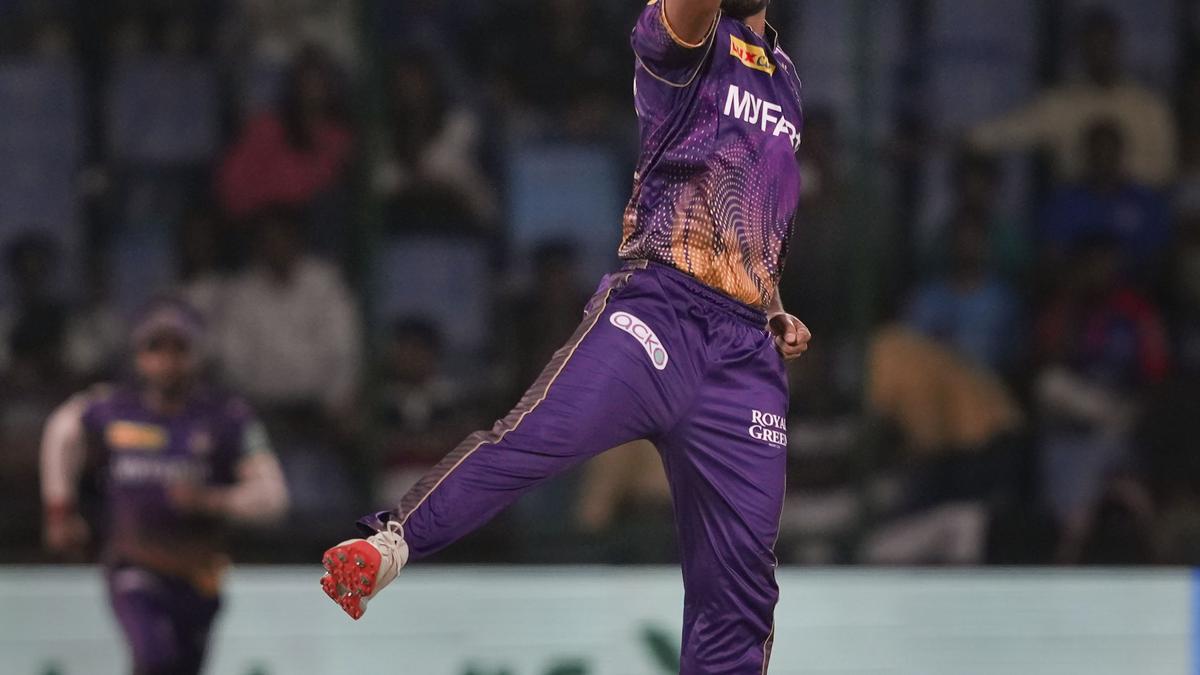 Kolkata Knight Riders bowler Nitish Rana celebrates the wicket of DC batter Aman Hakim Khan during the IPL 2023 cricket match between Delhi Capitals and Kolkata Knight Riders at the Arun Jaitley Stadium, in New Delhi, on April 20, 2023. | Photo Credit: PTI
Kolkata Knight Riders suffered their third straight defeat in Indian Premier League (IPL) 2023 against Delhi Capitals on April 20, and KKR skipper Nitish Rana took the responsibility for this loss.
Nitish has shown his potential as a batter in recent games. He scored 75 (41) against Sunrisers Hyderabad, however, his knock was not enough to take KKR to the finish line. "I take the responsibility for this, I should have stood there," said Nitish Rana after the match.
Against DC all eyes were stuck on him as KKR lost a wicket at the crucial moment of the game. Rana failed to step up as he walked back to the pavilion for a score of 4(7) as he became Ishant Sharma's first victim.
While the KKR batters accepted their fate and ended up putting a low score of 127 in 20 overs on the board, the KKR bowlers played a vital role in bringing the visitors back into the game. "Credit to the bowlers though, I think the upcoming games will be good for us. We were just trying to delay, but they played really well in the powerplay. That's where they won the game. We need to play well as a team. We need to bowl like the way we did today, if we manage to sort these things out, we can fight better," added Nitish Rana.
Even though Nitish failed to perform with the bat, he walked with the ball and ended up taking two wickets in four overs and giving away 17 runs. However, his performance with the ball was not enough to clinch victory for KKR. Chasing the lowest total of 127 in this year's IPL, David Warner seems to be in his natural style, hitting the bowler right from the start. However, Prithvi Shaw continued to disappoint with his poor form, he gave up his wicket to Varun Chakravarthy who scored just 13 off 11 balls in the 5th over.
DC reached the 50-run mark with ease in 5.3 overs. With Sunil Nairne's punishing 6th over conceding 17 runs, DC scored 61/1 after the powerplay. KKR's glimmer of hope came with the dismissal of Mitchell Marsh followed by Phil Salt in the 9th and 10th overs. Warner hit his fourth fifty this season from 33 balls which consisted of ten fours.
Varun on his second wicket gave KKR a major breakthrough by clearing set-in batter Warner for 57 off 41 balls. Anukul Roy dismissed Manish Pandey for 21 off 23 balls and Nitish Rana sent Aman Hakim Khan back to the dressing room on a duck. With the dismissal of the batters at regular intervals, DC struggled in the mid-overs as they did not reach a single boundary after the 16th over onwards.
This brought the match to a final on April 17 at the Rajiv Gandhi International Stadium. In the last over, DC needed 7 runs. Aided by a no-ball, DC chased down the total in 19.2 overs with four wickets.