Sports
IPL 2023 Final | Ravindra Jadeja proves that fairy tales do exist in sport, says Stephen Fleming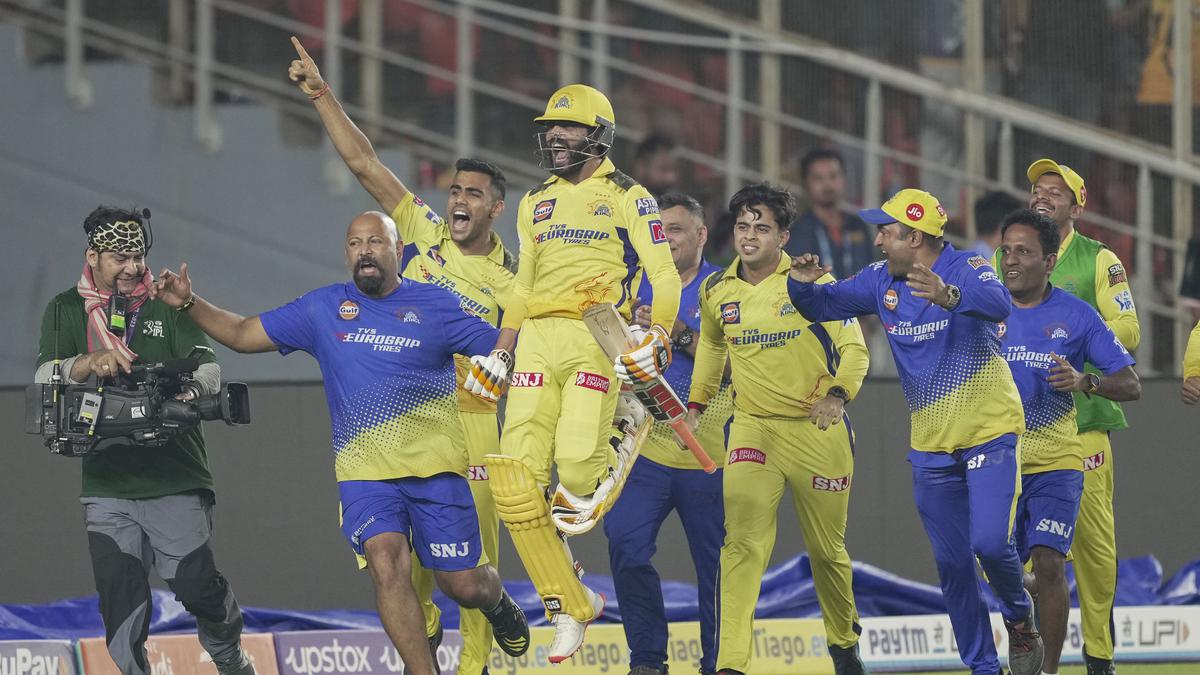 Chennai Super Kings coach Stephen Fleming said he does not believe in fairy tales in cricket but Ravindra Jadeja's improbable final-over heist, which took Chennai Super Kings (CSK) to its fifth IPL trophy early on May 30 , probably close.
With 13 needed to win the final against Gujarat Titans (GT), CSK managed just three runs off the first four balls before Jadeja smashed Mohit Sharma for six and four off the last two deliveries to literally grab the Cup from under Gujarat's nose.
"They say there are no fairy tales in sport, but it's pretty good today. It's pretty [of a] it was a tough 18 months where, because the captain was tough, the injury was tough, it took a bit of time out of the game for him to come back and get back into the Test side, and then get back into CSK," Fleming told the media after Chennai beat Gujarat Titans in the IPL final here.
In fact, it was in Fleming's mind that he had come to terms with the loss before the last two deliveries were bowled by Mohit and turned by Jadeja.
Also read | IPL 2023 Final | Chennai Super Kings beat Gujarat Titans by five wickets to win fifth title
"We lost the finals on the last ball which was an absolute heartache. I braced myself for another heartache when Jaddu hit one for six and there could have been more heartache or more joy, I'm not sure.

"But when I saw the ball drop, it was finally all fun. This competition will take you to an emotional level that you cannot imagine," added the former New Zealand captain.
Fleming was all praise for Jadeja's firepower.
"He plays a good role on the ball, but we have a lot of that strength [sometimes] we use him on command, but something has to give. MS [Dhoni] He was very supportive and proactive in getting him there and now he has repaid that faith," added Fleming.
The former New Zealand skipper explained Jadeja's shot selection.
Praising Jadeja's shot-selection, Fleming said: "The six, I think, especially with the ball pretty close to perfection, defines, and then left-handed drive to fine leg. It's a great way to end it. I couldn't be happier for him. There were some frustrations at times, but he's our gun player, he's a No. 1 ranked player and today he delivered."
The CSK coach said his team struggled on the field, but continued to improve and gain confidence as the rain-affected match continued.
"215… I thought it was a good score but the rain came and we had to change the momentum. We felt the humidity around the pitch, it was getting. It will take a lot of beating.
"The beginning was really important because we were still shell-shocked in the fielding. The first four or six overs started to give us belief and once we got a taste of it, it's the kind of ground where it's very difficult to defend, so we knew we had a chance. It's going to be high octane all the way," added Fleming.
Fleming also praised Gujarat Titans bowlers Mohammad Shami and Mohit Sharma for joining the contest in the last ball of the match.
"The last two overs were very tight. Shami and Sharma bowled well, Mohit Sharma in particular was very good," he said.
Cricket has always been a game of good margins, believes Fleming, who has been the coach of CSK for a decade and a half now.
"I think I said a few days ago that this tournament is defined by good margins. I think the last couple of balls summed that up — if you just miss a yorker or go down the leg side… "
"We've talked about that all the way through, that if you just get on the right side of those moments, we can stay and it's one of those days," Fleming said.
Also read | IPL 2023 | You get a chance to learn a lot when you play under Dhoni: Rahane
Kudos to Rahane
Fleming praised India's senior batter Ajinkya Rahane, who has been one of the success stories for the CSK side with a hugely successful season with the bat.
What has changed is Rahane's philosophy of not trying to be an anchor batter.
"That's my understanding [for Rahane] we have removed the tag of being the person you are against or against. I think it probably got in his head a little bit and didn't allow him to be the player he could be.
"And once that tag went away, when I turned around halfway through pre-season training, I saw a guy who was in amazing form," Fleming said.
Fleming said Rahane did not feature in their initial plan.
"He wasn't in our initial thoughts, but the Mumbai game was really defining. It was one of our best wins in the tournament and he was the big catalyst behind it, so he cemented the No. 3 spot.
"He has been unwavering the whole way through he's been nothing but positive, his nets are positive. Anytime he gets a catch on the boundary or plays a big shot, we just reinforce how good he is. So [thanks to] just a little bit of belief and just a lot of ability — he's been a really good player for us this year," he said.
Also read | Indian Premier League 2023 | Chennai Super Kings' Ambati Rayudu has announced retirement
Rayudu will leave a big hole, says coach
Fleming said Ambati Rayudu, who announced his retirement after this IPL final, will leave a big hole in their side.
"Ambati Rayudu is an absolute legend. I rate him very highly as a batter and those three balls against Mohit Sharma today proved against one of the most in-form bowlers… he hit 6, 4 and 6 are a class.
"Rayudu will leave a hole, there's no doubt about it, but the game keeps moving. Isn't it? We expect that for him to go out like that is quite emotional within the group and for him as well," said by Fleming.