Sports
IPL 2023 | I'll never give up, wants to play Test at Wankhede: Rahane after breaking fastest fifty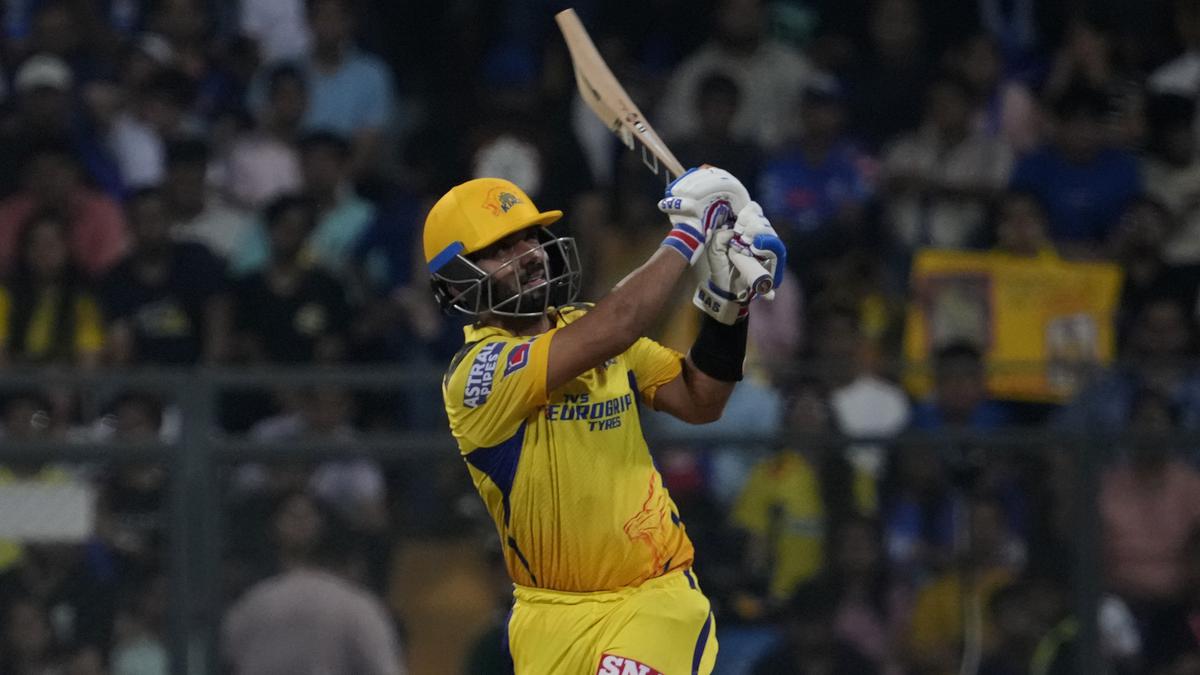 Chennai Super Kings' Ajinkya Rahane bats during the Indian Premier League (IPL) cricket match against Mumbai Indians in Mumbai, on April 8, 2023 | Photo Credit: AP
Ajinkya Rahane did not give up and after surprising the cricketing world with the fastest fifty of IPL 2023 at the Wankhede Stadium, the out-of-favour India batter is looking to play a Test match on his home ground.
On CSK debut, Rahane smashed seven fours and three sixes in his 61 off just 27 balls and the fastest fifty of the season came off just 19 balls. Chasing 158 against Mumbai Indians, CSK finished on 159/3 in 18.1 overs.
"I always enjoy playing at the Wankhede. I have never played a Test here. I want to play a Test here," said Rahane, who led India to a famous Test series win in Australia in 2021.
Rahane was not supposed to start the game but an injury to Moeen Ali gave him a chance.
"There is still a long way to go. Now, I'm not sure of my place in the eleven. I knew before the toss, for me it's about playing one game at a time and staying in the moment," Rahane told the media on April 8, 2023 evening.
"Anything can happen. Now, I'm not sure about my game. For me, I will never give up. It's about playing with fun and passion.
"Whatever format I do, it's about giving my best every time, rather than thinking about the future, (things) that are out of my hand, out of my control, for me it's about giving my best every time and being as positive as possible and whenever I get an opportunity I should be ready for that," said Rahane.
Rahana was dropped from the Test team following the tour of South Africa in January 2022. While Cheteshwar Pujara returned, Rahane did not.
The 34-year-old said the knowledge of his home ground helped him play the way he did.
"I just knew before the toss that I was playing. Unfortunately, Moeen is not feeling well. I really know this wicket, have an idea of ​​how the wicket plays or how the ball moves, which helped me," Rahane.
"When I came in, it was about playing my normal game. The goal was really good. I prepared really well, we had a really good camp before coming here, the domestic season was good, batting wise I felt good. I am happy that I did really well and we won the game," he added.
As he often does, Rahane played pure cricket to endear the crowd. Mumbai Indians head coach Mark Boucher said that the spin bowling of Ravindra Jadeja and Mitchell Santner hurt his side more than Rahane's knock.
"It's difficult to look at our bowlers and their batters when we don't have enough runs on the board. In the game of T20 cricket especially now you have impact players.
"We had seven frontline batters today to get us but 157/8 was not enough. With that start (61/1 in six overs) we should have got 180-190 and then we can judge our bowling," Boucher said.
"Rahane played some good cricketing shots. But I think it was more about the bowling that we did at the end of the day. The bowling hurt us more than Rahane's batting," he added.