Sports
IPL 2023 | The game was not lost because of the inexperience of the Indian batters: Marsh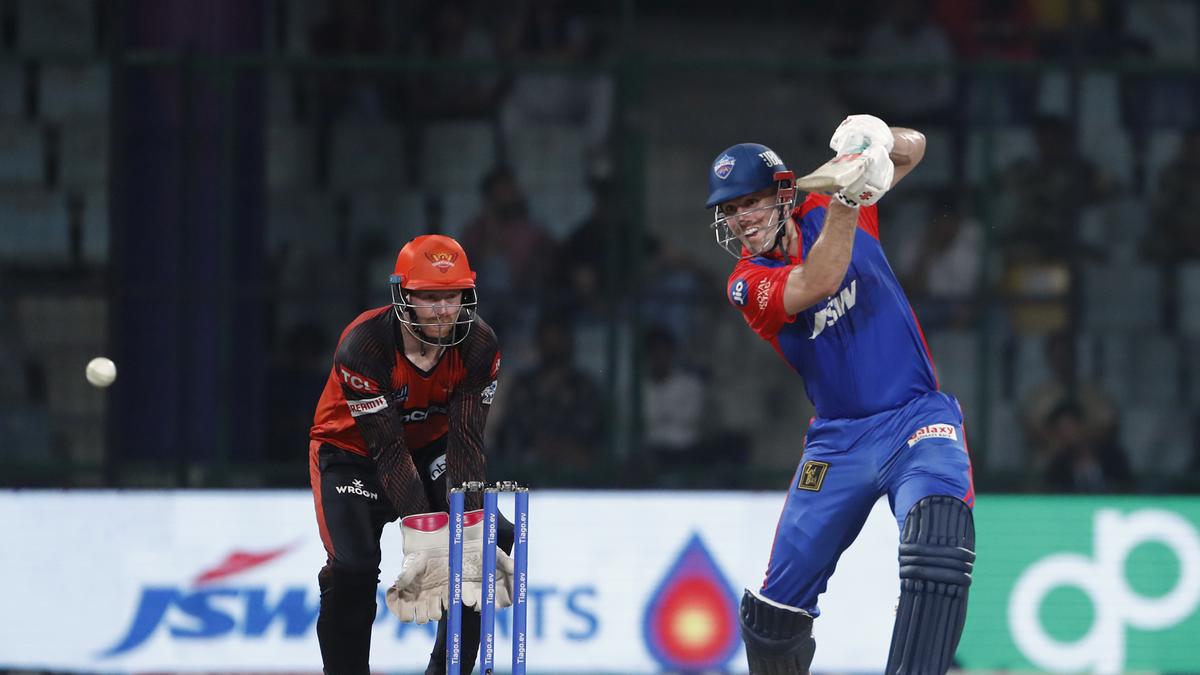 Mitchell Marsh of Delhi Capitals plays a shot during the Indian Premier League cricket match between Delhi Capitals and Sunrisers Hyderabad in New Delhi, India on April 29, 2023. | Photo Credit: AP
Delhi Capitals all-rounder Mitchell Marsh defended his side's Indian batters after they failed to revive the run chase against Sunrisers Hyderabad, saying the game was not lost because of their inexperience and the 198-run target was "too much " eventually .
In a sensational all-round effort, Marsh scalped four wickets and then hit a breezy 39-ball 63 but when he was dismissed DC burst into India's inexperienced players who failed score the required runs as they lose by nine runs.
"We have a lot of faith in all of our players. There are some inexperienced players in our lineup, but you have to have faith, you have to throw those guys out there and I don't think we lost the game there tonight . There were parts of our game where we lost the game. That certainly wasn't one of them," Marsh said in the post-match press conference.
"If you look at our season, we can't blame anyone but we've lost some really close games. It's very difficult to win games in the IPL. And unfortunately we've been on the wrong side of a couple of really near
"But there were some positives coming out tonight. But ultimately, I think chasing 195 was probably too much on that wicket."
Abhishek Sharma (67) and Heinrich Klaasen (53) set up the win for SRH with explosive knocks.
"I think his (Klaasen's) innings was definitely a game-changing innings, to be able to go out there on that wicket and start the way he did and take the game to the fence. He has been in very good form for Hyderabad . So fair play to him," said the Player of the match.
"Ultimately, I still think it's not a 195 wicket so we have to look at some areas of it."
Harry will become one of the biggest names in world cricket: Badani
While Abhishek and Klaasen had a good nick, the rest of the SRH top and middle order including Mayank Agarwal, Rahul Tripathi and Harry Brook continued to fail.
"It's a question of momentum, it's about getting back in touch. I'm a firm believer that it's a question of one knock in the middle then it falls back into the picture," SRH batting coach Hemang Badani said during the press conference.
"I really believe that Harry is going to be one of the biggest names in world cricket."
SRH opener Mayank has not been consistent, scoring two 40 plus scores in his last eight innings.
"Mayank has been there for many years. He's led Punjab. Somebody of his stature, he just needs a bit of nudging here and there, fine-tuning and it's a question of time. He's not out of touch, he's a serious player. "
Overall, Badani was pleased with his team's batting effort.
"I liked the goal we had. I think it's probably only the second time all season we've had 60 on the board on the powerplay. I'm pretty pleased with the target we put on the board. If you look at the other team if a team posts a good hit, not all five of their batters score runs. It's always two or three batters standing."
DC are on course for a win with Marsh and Phil Salt (59) gunning well at one stage and Badani said SRH changed their bowling plan at the timeout break.
"I'd be lying if I said we weren't thinking. We were worried to see them run and hit at a canter. But during our timeout break, the message given to the bowlers that a lot of DC batters. were playing on the backfoot and we were giving they have pace and the length is slightly shorter. We tried to get the guys to bowl slower and spin the ball. When you manage to break a partnership then the floodgates open and that was one of the things that happened today."