Sports
IPL Final 2023 | Shubman Gill will play Virat, Rohit, Dhoni, says Suresh Raina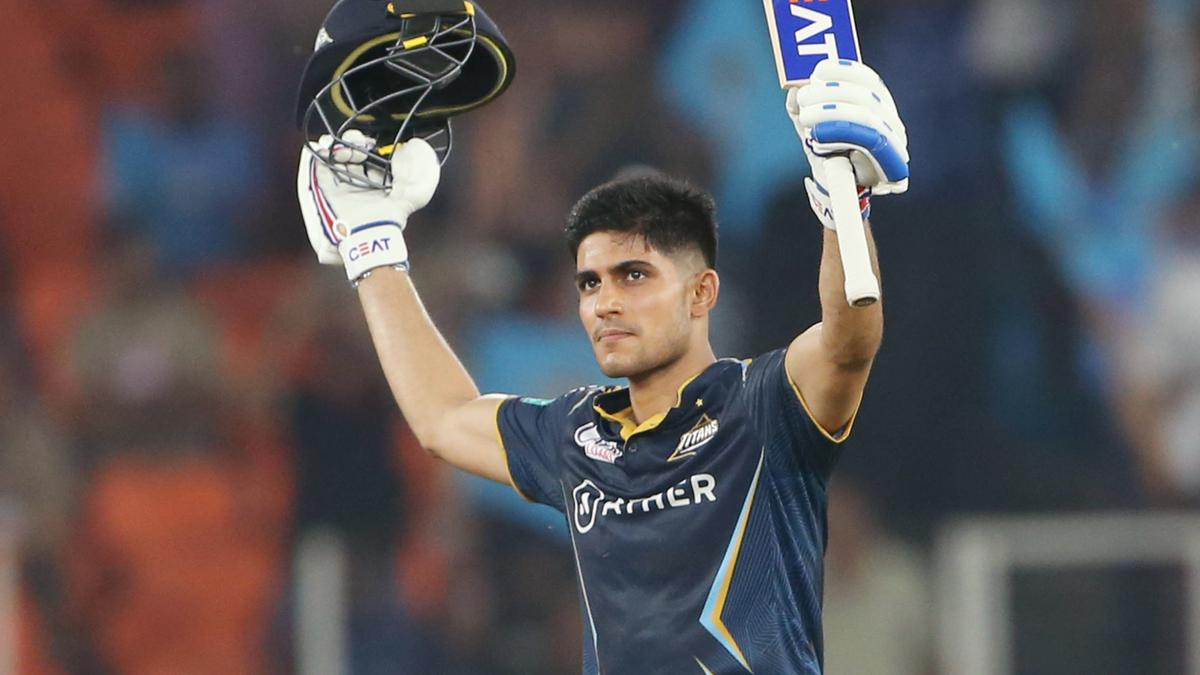 Gujarat Titans' Shubman Gill raises his bat after scoring a century in the Qualifier match against Mumbai Indians in the Indian Premier League (IPL) 2023, at the Narendra Modi Stadium in Ahmedabad on Friday. | Photo Credit: ANI
Gujarat Titans have qualified for the 2023 IPL final after defeating Mumbai Indians in Qualifier 2 by 62 runs at the Narendra Modi Stadium in Gujarat.
The Titans put in a superb performance with the bat, scoring 233 runs in the first innings. Shubman Gill had a spectacular 129-run knock (60 balls, seven boundaries, 10 sixes) that opened the floodgates for GT.
Mumbai toiled hard with some batters getting off to a good start but eventually lost in the remaining 10 deliveries, scoring 171 runs. Suryakumar Yadav top scored with 61 runs (38 balls, seven boundaries two maximums).
A rematch against Chennai Super Kings, as CSK beat Gujarat in Qualifier 1 on Tuesday to cement their place in the finals.
Shubman Gill set the ground on fire with his electric 129-run performance in the first innings that helped the Titans post a mammoth total.
On the Jio Cinema post-match preview, former cricket player and expert Suresh Raina heaped high praise on the young opener, "The silence we saw. In such a big match, body language is very important. The sixes he hit later in the match. , what we call pick-up shots. He hit one off Kartikeya, and after that, he realized that he could go into the line and just take pick-up shots. I liked his body language, his confidence, his self-belief. , and he is used to playing in big matches. Just look at Virat Kohli, as we saw last year with Jos Buttler. But the performance we saw tonight, whenever we have big games , he will act as Virat, Rohit, and Dhoni has MS."
The Titans are on the verge of retaining their crown as TATA IPL Champions after their win last season on their franchise debut.
IPL expert Anil Kumble lauded the continuity of the Gujarat side from last season to this, "This season, they just continued from where they left off last year. In that sense, credit to Hardik, credit to Ashish, and the rest of the players as well. The players are very good. The addition of Josh Little, the addition of Noor Ahmed, I think these two have really helped them and also the impact player rule, with the addition of Sai Sudarshan and Vijay Shankar coming in and doing their respective roles. Mohit Sharma is brilliant at the back-end, he will take the five-wicket haul, but Suryakumar Yadav's wicket is critical", according to Jio Cenima.
Mohit Sharma's bowling has led to great success for Gujarat throughout the season and he stepped up today, finishing the game with 5/10 figures in just 2.2 overs.
JioCinema IPL expert Parthiv Patel called Sharma one of the best comeback stories of the season, "He bowled really well. We were talking about whether 233 runs can be chased on this wicket. The guy didn't even complete it his four-over spell but took five wickets. It's a big day for Mohit Sharma because of the way he's been selected this year, last year he was a net bowler in this very team, so to be selected after that is a big thing. A lot that we have seen a comeback story this year and Mohit Sharma's name should also be there."