Sports
Karnataka and Saurashtra are ready for the blow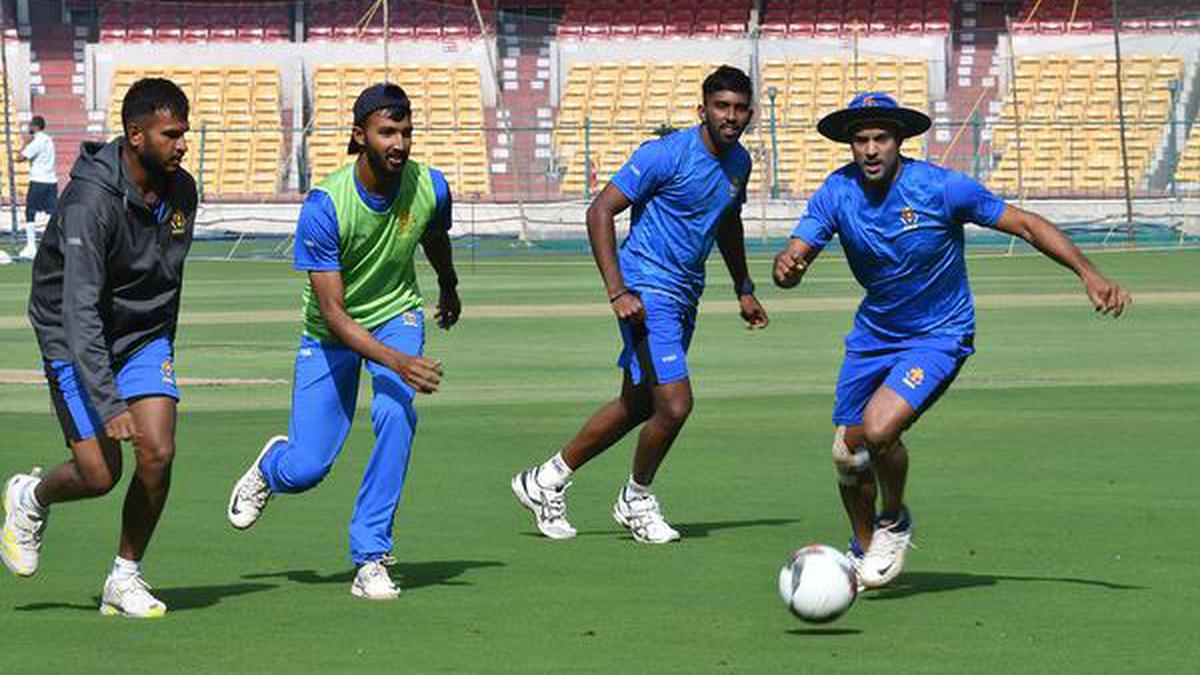 Karnataka players during a training session ahead of their semifinal against Saurashtra. | Photo Credit: Sudhakara Jain
As far as Ranji Trophy rivalries go, Karnataka versus Saurashtra is no Rumble in the Jungle. Both teams want a good punch-up, as they did here in the controversy-ridden 2018-19 semifinal won by Saurashtra, but the match is neither too old nor too fierce. The battle is still in the early stages.
The truth is that Saurashtra, of late, has become Karnataka's enemy. In the last five matches between the two, Karnataka have lost three and conceded first-innings leads in the other two. As both teams head into the semifinal clash at the M. Chinnaswamy Stadium starting Wednesday, Karnataka have a score to settle.
It will help that Saurashtra will miss the star trio of Cheteshwar Pujara, Ravindra Jadeja and Jaydev Unadkat, all of whom are away on National duty. Pujara's, in particular, will be a big loss, as he scored 1193 First Class runs against Karnataka in just eight matches, the most against any Indian opponent.
But in recent times, no team has gone out of its way to secure the tag of a stalwart like Saurashtra and its pedigree can single-handedly take care of Karnataka. In the time since Karnataka last reached the final (2014-15), Saurashtra have made it to the summit clash thrice and won the title once.
Last week, it won the quarterfinal against Punjab without Pujara, Jadeja and Unadkat, but with left-arm spinner Parth Bhut scoring an unbeaten century, fifty and claiming a match-haul eight wickets . Dharmendrasinh Jadeja's 37 wickets, skipper Arpit Vasavada's 577 runs and Harvik Desai's 516 runs are the other bright spots this season.
But an in-form Karnataka, at home, will be tough to crack. While its batters are expected to continue their good form, the home pace-battery, on what coach PV Shashikanth believes will be a seamer-friendly pitch, should be cheering.
The trio of V. Vyshak, Vidwath Kaverappa and V. Koushik together took 76 wickets. M. Venkatesh made his debut in place of the then injured Koushik in the quarterfinal against Uttarakhand and impressed with seven wickets, thus creating a selection headache.
"It's good for the side to have an embarrassment of riches," Shashikanth said. "We have a lot of fuel in the tank and we will be in a combination that will help us get 20 wickets. As you can see, we are unbeaten in the league stage. We just want to continue that streak."
The squads (from): Karnataka: Mayank Agarwal (Capt.), R. Samarth, Devdutt Padikkal, Nikin Jose, Manish Pandey, KV Siddharth, Sharath Srinivas, Nihal Ullal, K. Gowtham, Shreyas Gopal, Shubhang Hegde, Vidwath Kaverappa, V. Koushik, V. Vyshak, M. Venkatesh.
Saurashtra: Arpit Vasavada (Capt.), Sheldon Jackson, Prerak Mankad, Chiraj Jani, Samarth Vyas, Harvik Desai, Chetan Sakariya, Dharmendrasinh Jadeja, Snell Patel, Yuvraj Dodiya, Parth Bhut, Navneet Vora, Devang Karamta, Kushang Patel, Vishwarajsingh.