Sports
Morning Digest: April 13, 2023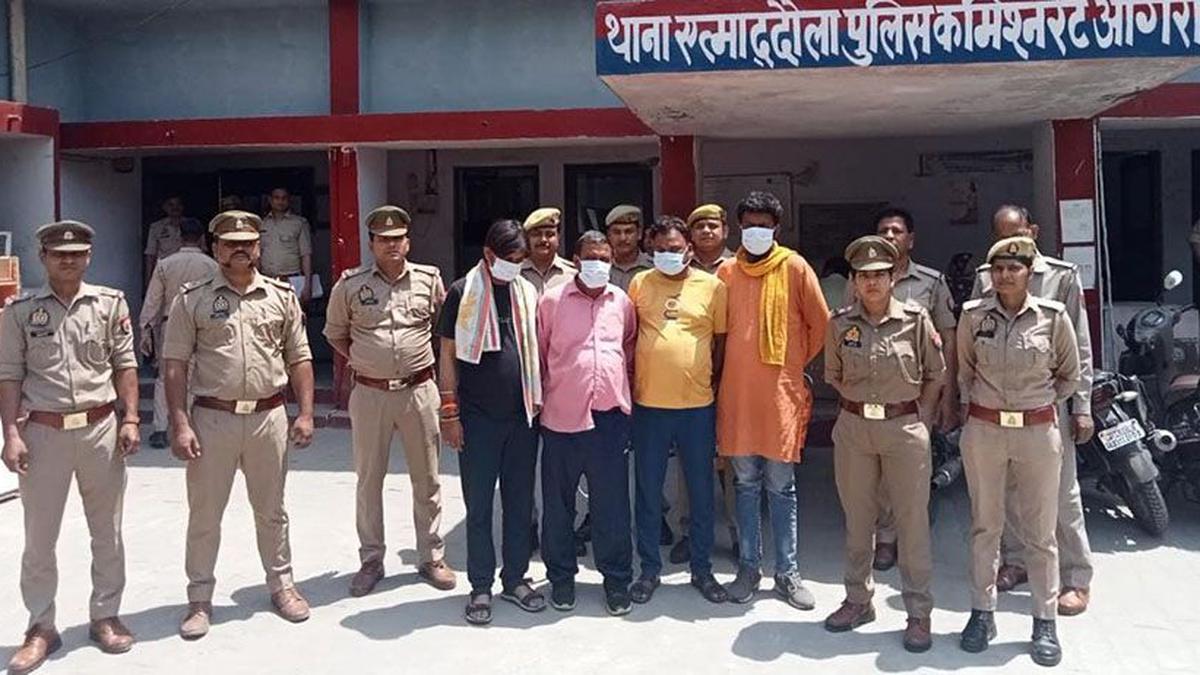 Akhil Bharat Hindu Mahasabha leader, three aides arrested in Agra cow slaughter case
The Uttar Pradesh police on Wednesday arrested Sanjay Jat, national spokesperson of the Akhil Bharat Hindu Mahasabha, and three of his aides in connection with the March 30 cow slaughter case in Agra. "Sanjay Jat, Jitendra Kushwaha, Brajesh Bhadoria and Saurabh Sharma was arrested and produced in court. It was found during the investigation that they had an enmity with four people and wanted to implicate them in the case," said Rakesh Kumar Singh, Assistant Commissioner of Police, Chhatta.
Maulana Azad's reference has been removed from the NCERT textbook
He was a freedom fighter and India's first Education Minister, but any mention of Maulana Abul Kalam Azad was omitted from a revised political science textbook published by the National Council for Educational Research and Training (NCERT). The authors of the revised Class 11 textbook also omitted the fact that Jammu and Kashmir acceded to India on the basis of a promise that the State would remain autonomous. This is the latest in a series of controversial omissions from the new NCERT textbooks as part of the syllabus rationalization process. Even more glaring is the fact that NCERT has failed to declare any of these changes in the public domain.
Karnataka Elections | Six more MLAs did not get the ticket as the BJP announced the second list of 23 names
The BJP on Wednesday released the second list of candidates comprising 23 names, a day after releasing the first list of 189 candidates. The highlight of the second list was that the party denied ticket to six more MLAs, including Madal Virupakshappa, who is facing Lokayukta corruption probe and is currently in custody. With this, the total number of sitting MLAs who have been denied tickets has reached 17.
India is concerned about misuse of UK asylum status by pro-Khalistan elements
The Indian delegation, during the 5 th India-United Kingdom Home Affairs Dialogue on Wednesday, conveyed its concerns over the misuse of UK asylum status by pro-Khalistan elements in aiding and abetting those terrorist activity in India and demand appropriate proactive action.
COVID-19 cases to increase in eight-10 days but with below average severity: Health Ministry
Omicron XBB and its variants are responsible for the current increase in COVID-19 cases, but this is not cause for concern as the severity of this variant is currently below average, with less -hospital, a senior Health Ministry official said on April 12. India has been registering a steady rise in COVID-19 cases for over two weeks now. The official added that there will be a further increase in cases in the next 8-10 days, after which a decline is expected. "Being careful and not panicking is the way to go," he said.
Rajasthan Chief Minister Ashok Gehlot side-steps question on Sachin Pilot's fast, Delhi leadership remains mute
The leadership in Delhi and Rajasthan Chief Minister Ashok Gehlot both kept the study quiet on a day when former Deputy Chief Minister Sachin Pilot's action on charges of alleged corruption under of the previous BJP government led by Vasundhara Raje in the State. On Monday evening, the party's Rajasthan chief Sukhjinder Singh Randhawa issued a statement appealing for "calm dialogue" and asserting that the "day-long fast" would be treated as "anti-party activity ".
IPL 2023 | Dhoni's 17-ball 32 was in vain as Rajasthan Royals beat Chennai Super Kings by three runs in another last-ball thriller
Mahendra Singh Dhoni gave a glimpse of the good old days of thrilling overs but unheralded Rajasthan Royals seamer Sandeep Sharma nailed some perfect block-hole deliveries to secure a three-run victory for Rajasthan Royals against Chennai Super Kings in a close IPL encounter, in Chennai on Wednesday. Chasing a target of 176, Dhoni (32 off 17 balls) and Ravindra Jadeja (25 off 15 balls), the veterans of many such glamorous finishes were on course as 21 were needed off the last over. CSK's final score was 172 for 6 as Dhoni did not finish his 200th game for CSK the way he would have liked in his spiritual home with 30,000 plus spectators cheering him on.
Written test never conducted for in-house constable recruitment in regional languages, CRPF says
The developmet comes after Tamil Nadu Chief Minister MK Stalin wrote to Union Home Minister Amit Shah urging that the recruitment examination for 9,212 posts of constables (technical and tradesmen) also be held in Tamil and other regional languages.
Rahul Gandhi's disqualification case is a litmus test for India's judiciary, says Congress
Rahul Gandhi's conviction and disqualification from the Lok Sabha is "deeply flawed" in law and a "litmus test" for India's judiciary, Congress leader Anand Sharma said on April 12 as he announced the hope that "it will be corrected". A sessions court in Surat is scheduled to hear the appeal of Mr. Gandhi on Thursday for staying his conviction in the criminal defamation case that led to his disqualification from the Lok Sabha.
The Supreme Court will study whether Justice Ranganath Mishra's panel can be used to decide on the quota for Dalit converts.
The Supreme Court on Wednesday said that a 2007 report by the Justice Ranganath Mishra Commission for Religious and Linguistic Minorities, which recommended Scheduled Caste reservation for Dalits who had converted to Christianity and Islam, was not all that is "perfunctory", adding that the government may need to "re-check" its stance on the report.
SC Collegium recommends 7 names for appointment as judges in Madhya Pradesh HC
The Supreme Court Collegium headed by Chief Justice DY Chandrachud on Wednesday (April 12) recommended the names of seven district judges for appointment as judges of the Madhya Pradesh High Court. The Collegium, which also included Justices Sanjay Kishan Kaul and KM Joseph, recommended the names of Roopesh Chandra Varshney, Anuradha Shukla, Sanjeev Sudhakar Kalgaonkar, Prem Narayan Singh, Achal Kumar Paliwal, Hirdesh, and Avnindra Kumar Singh.
The Health Ministry has revised the package rates for the beneficiaries of the Central Government Health Scheme
The Health Ministry on Wednesday announced that it has revised the Central Government Health Scheme (CGHS) package rates for all CGHS beneficiaries and simplified the referral process under CGHS for the benefit of its employees by -offer video call facility. There has been no change in rates since 2014.
The Supreme Court has initiated steps for inclusive infrastructure and sexuality sensitization for the LGBTQIA+ community in its court
The Supreme Court has initiated steps towards inclusive infrastructure and sexuality sensitization for the LGBTQIA+ community in its court. It said in a statement that the court under the guidance of Chief Justice of India DY Chandrachud took the lead for the inclusion of the LGBTQIA+ community to create nine universal rest rooms at various locations in the main building as well which is also the additional building complex of the Supreme Court. .
US aviation watchdog maintains India's safety category after review
The US's aviation safety regulator, the Federal Aviation Administration, has retained "Category 1" status for India's aviation safety oversight following a review, it informed the country's watchdog on Wednesday. The FAA's International Aviation Safety Assessment (IASA) program determines whether a country's management of its airlines that operate or intend to operate in the US or enter into codeshare partnerships with US carriers complies with safety standards established by the UN aviation watchdog, International Civil Aviation Organization (ICAO).
Opposition unity is a confederacy of corrupt parties: Anurag Thakur
"When parties mired in the blink of an eye come together, a 'thugbandhan' is formed. People know they have no policy, no intention, no leadership. These gimmicks will not hide their corruption," said Mr. Thakur, speaking to the media even as Bihar Chief Minister Nitish Kumar and other Opposition leaders met Congress president Mallikarjun Kharge in New Delhi for talks in a unified group.
North Korea fired a missile, prompting Japan to issue a warning for Hokkaido
North Korea fired a missile on Thursday, South Korea and Japan said, prompting a warning for some Japanese residents to take cover. The Japanese government warned residents on the northernmost main island of Hokkaido to take cover immediately, saying a missile was likely to land near the island at around 8 am Japan time (2300 GMT).