Sports
Morning Digest: April 23, 2023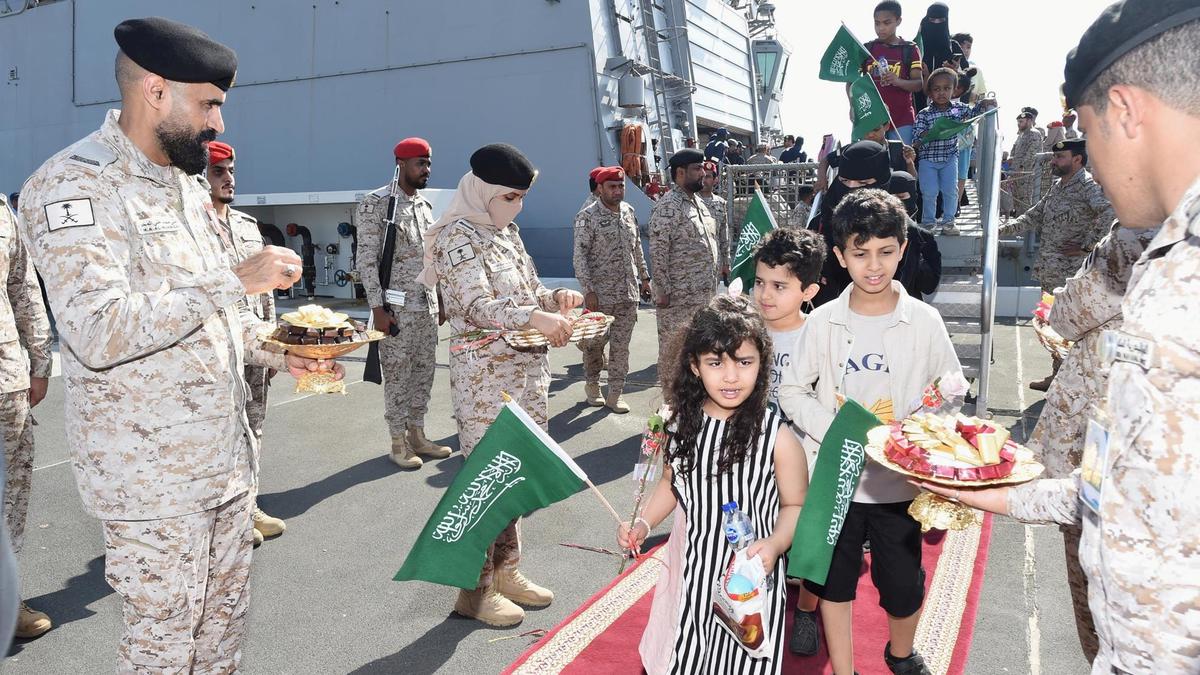 Saudi Arabian citizens and people from other nationalities are welcomed by Saudi Royal Navy officials as they arrive at Jeddah Sea Port after being evacuated by Saudi Navy Ship from Sudan to escape conflicts. | Image Credit: Reuters
Saudi Arabia evacuates Indians along with other foreigners to Sudan
Saudi Arabia announced on April 22 that it had evacuated some citizens of "fraternal and friendly" foreign countries from Sudan that included some Indian nationals. According to an announcement from the Saudi Arabian Ministry of Foreign Affairs, 66 citizens from these countries were evacuated by Saudi Arabia on April 22.
The Center has intensified the crackdown with the aim of making India drug-free by 2047
Opium and cannabis cultivation in an area the size of more than 89,000 football fields has been destroyed in the past three years as the Union government steps up its crackdown on drugs. Aiming to make India "drug-free" by 2047, the Ministry of Home Affairs (MHA) plans to link the recovery and use of narcotics and illicit substances in a given area to the annual assessment report of a District Superintendent of Police .
ISRO to send uncrewed rocket as part of Gaganyaan Mission
The Indian Space Research Organization (ISRO) will launch its first uncrewed test rocket Geosynchronous Satellite Launch Vehicle (GSLV) as part of the human space mission — Gaganyaan.
The army canceled the convoy hours before the truck was ambushed on the same route in Jammu, the official said
Hours before an army truck was ambushed by unidentified terrorists in Jammu's Poonch district on Thursday, resulting in the death of five soldiers, the army canceled the movement of a convoy on the same route, a senior official of government.
The Hakki Pikkis of Karnataka in the Sudanese civil war
The story of how the Hakki Pikki, or bird hunters of Karnataka, were caught up in a civil war in Sudan, tells a contemporary story of migration, development, and the human desire to thrive.
Can Hindutva push past its traditional bastion to deliver results for the BJP in Karnataka?
When the BJP proposed a change of guard in its government in Karnataka in July 2021, from BS Yediyurappa to Basavaraj Bommai, it also marked a change in the tone of the party and its government in the State. It has started an experiment to push "hardline Hindutva", and whether it will yield dividends for the BJP will be seen in the upcoming elections.
Jaishankar calls on Guyanese President and Vice-President, holds India-Guyana joint commission meeting
External Affairs Minister S Jaishankar called on Guyanese President Irfaan Ali and Vice President Bharat Jagdeo and also attended the 5th India-Guyana Joint Commission Meeting with his counterpart Hugh Todd and held comprehensive discussions on topics such as agriculture, cooperation in defense and infrastructure development.
Supreme Court acquits mentally ill woman jailed for murdering father
The Supreme Court has ordered the release of a woman, who spent 12 years in prison for killing her father, after realizing that she was mentally ill at the time of the event.
Ram Rajya is possible only through caste census, says Akhilesh Yadav
Reiterating the demand for a caste-based census, Samajwadi Party (SP) president Akhilesh Yadav on Saturday said Ram Rajya and Samajwad (Socialism) is possible only when a caste census is conducted.
Archery World Cup | Jyothi Surekha Vennam bagged a second gold, winning the individual compound event
Former world championship silver medalist Jyothi Surekha Vennam won individual gold in the women's compound section at the Archery World Cup Stage 1 in Antalya on April 22.
Moscow expels 'more than 20' German diplomats
The Russian Foreign Ministry spokesman on April 22 announced the expulsion of "more than 20" German diplomats in retaliation for the "mass expulsion" of Russian Embassy staff from Berlin.
During a visit to Portugal, Brazil's Lula supports Russia-Ukraine talks to end the war
Brazilian President Luiz Ignacio Lula da Silva on April 22 again refused to be drawn into the war in Ukraine, calling for a "negotiated" settlement between Kyiv and Moscow.
IPL 2023: MI vs PBKS | Arshdeep, Curran shine as Punjab thrash Mumbai in high-scoring thriller
Death overs specialist Arshdeep Singh smashed the stumps at will in a tense final as Punjab Kings returned to winning ways with a 13-run victory over Mumbai Indians in a high-scoring entertainer in the IPL , in Mumbai on April 22.
IPL 2023: LSG vs GT | Rahul's confusing batting strategy leads to a seven-run defeat
Skipper KL Rahul managed to snatch defeat from the jaws of victory with a perplexing batting approach as defending champions Gujarat Titans defeated Lucknow Super Giants by seven runs in a low-scoring IPL thriller, in Lucknow on April 22.