Sports
Morning Digest: July 05, 2023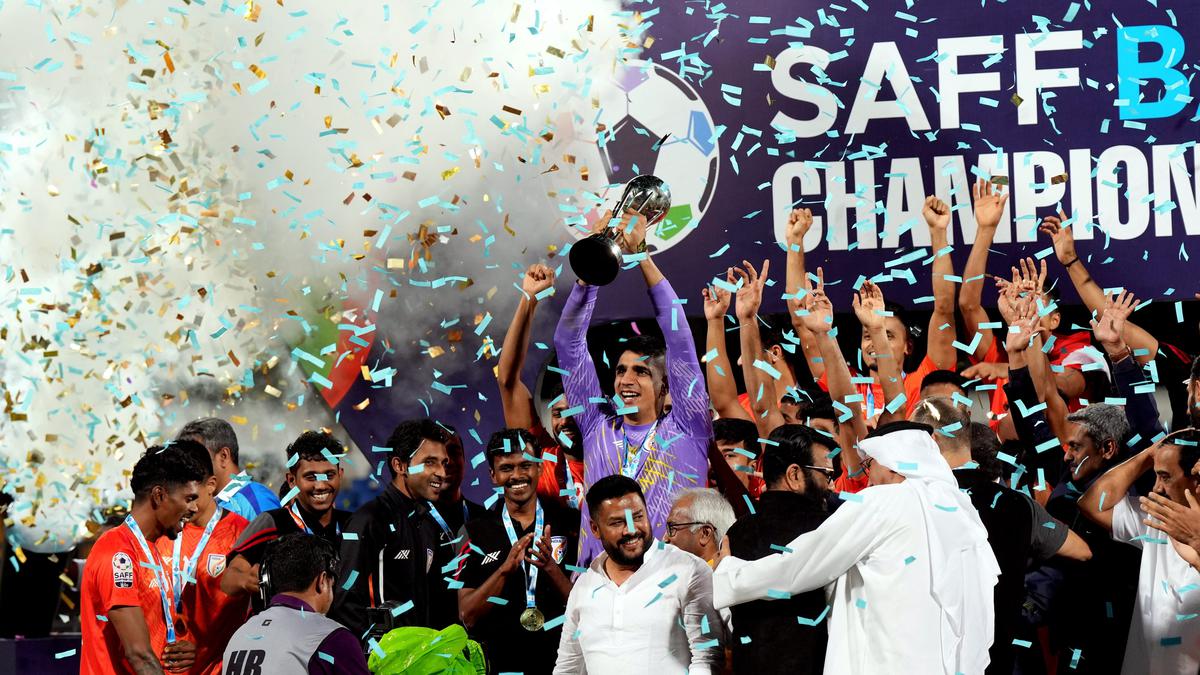 India's goalkeeper Gurpreet Singh Sandhu lifts the SAFF Championship 2023 trophy in celebration with teammates after defeating Kuwait in the final match at the Kanteerava Stadium, in Bengaluru, Tuesday, July 4, 2023. | Photo Credit: PTI
Balasore train accident could have been avoided by running checks: Railway Safety Commission report
An undetected fault in the wiring at the location box near Bahanaga Bazaar Railway Station that went unnoticed by Signal and Telecom (S&T) personnel for the past five years led to the fatal triple train collision in Odisha. Usually installed at a distance of two to five kilometers, the location box contains the cables that control signaling functions, including points, signals and track circuits.
Political crisis in Maharashtra | Those who have betrayed my ideology have no right to use my picture: Sharad Pawar
Sharpening his attack on his nephew Ajit Pawar and his rebel faction of the Nationalist Congress Party, NCP president Sharad Pawar said on July 4 that those who have "betrayed" his ideology have no right to use his photograph.
India beat Kuwait 5-4 in penalty shootout to win SAFF Championships title for 9th time
Goalkeeper Gurpreet Singh Sandhu made the difference again when he saved the crucial penalty kick in the summit clash to help India beat Kuwait 5-4 in a shootout and clinch the SAFF Championships title for the ninth time here on Tuesday.
The SCO called for a multipolar world order as Iran joined the grouping
Building a "more representative" and multipolar world order is in the global interest, leaders of the Shanghai Cooperation Organization said at a virtual Summit chaired by Prime Minister Narendra Modi on July 4. The group's decision to enter the Iran as the ninth and latest member is one of several agreements signed at the summit.
Bunkers will be removed within 10 days in Manipur
A day after Manipur Chief Minister N. Biren Singh said that bunkers built in hilly and valley areas would be pulled down by security forces, a defense source said that all such structures will be removed in the next ten days. The exercise will begin on July 5.
Turkey and Egypt re-appoint ambassadors and end years of tension between regional powers
Egypt and Turkey took a further step toward restoring full diplomatic relations on Tuesday by sending ambassadors for the first time in years, the latest step in reconciliation between the two regional powers. In a joint statement, the two countries announced the appointment of Salih Mutlu Sen as the Turkish ambassador in Cairo and Amr Elhamamy as the Egyptian ambassador in Ankara.
NATO again expanded Stoltenberg's mandate, happy to have a safe pair of hands as the war dragged on
NATO Secretary-General Jens Stoltenberg will remain in office for another year, the 31-nation military alliance decided on Tuesday. Mr. Stoltenberg, a former Norwegian Prime Minister, has been NATO's top civilian official since 2014. His term was due to expire last year but was extended then to keep a firm hand at the helm after the full that Russia invaded Ukraine in February 2022.
Shots fired into hundreds of people after a holiday festival in Texas, 3 dead, 8 injured
Three people were killed and eight others were wounded when gunfire opened fire on hundreds of people following a celebration in a Texas neighborhood, authorities said. The shooting happened in the Fort Worth neighborhood of Como around 11:47 p.m. Monday, and police said a chaotic scene ensued as people tried to flee on foot and in vehicles as shots rang out.
The Center for Policy Research lost its tax exemption status
The Income Tax Department has canceled the tax exemption status of the Center for Policy Research (CPR), a leading public policy research institute. The status was revoked on June 30. The think tank's Delhi-based office was audited by the Income Tax Department on September 7, 2022.
Alcaraz started her Wimbledon with a straight-set win and defending champion Rybakina beat Rogers
In just his third Wimbledon tournament, Carlos Alcaraz is already one of the main men to beat. The top-seeded Spaniard has yet to get past the fourth round at the All England Club, but he has been the main threat in Novak Djokovic's quest for a record-equaling eighth men's title at the grass-court Grand Slam.
France demands answers as Macron declares unrest has 'peaked'
French President Emmanuel Macron on Tuesday met with hundreds of French officials to begin exploring the "deeper reasons" for the country's slide into unrest after the killing of a teenager at a traffic stop. The Elysee palace meeting with some 250 mayors, whose municipalities have been battered by a week of violence, came as authorities reported a calmer night across the country.