Sports
Morning Digest: July 08, 2023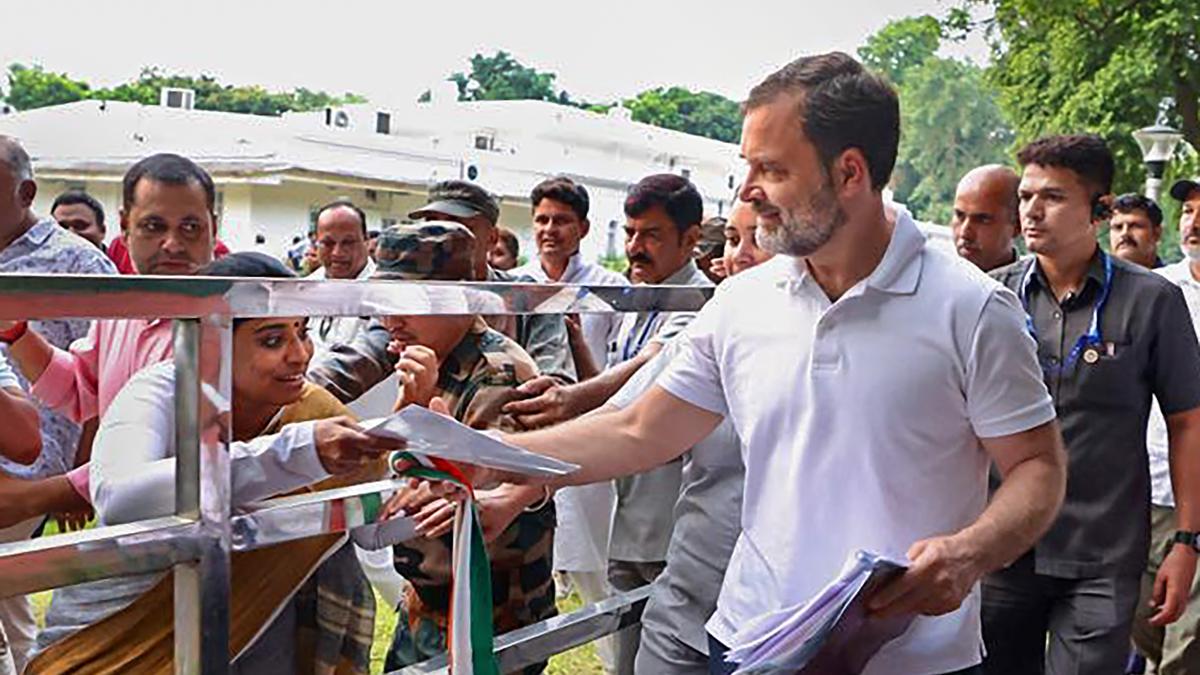 Congress leader Rahul Gandhi meets party workers, at the AICC headquarters in New Delhi on July 4, 2023. | Photo Credit: PTI
Congress moves Supreme Court after Gujarat High Court refuses to stay Rahul Gandhi's conviction
The Congress on July 7 announced that it would move the Supreme Court after the Gujarat High Court refused to stay Rahul Gandhi's conviction in the Modi surname case and pointed out that no court had handed down the maximum punishment in India's 162-year history. Penal Code.
BBC receives new calls on Modi documentary
Delhi's Rohini Court on July 7 issued fresh notices to the British Broadcasting Corporation (BBC), Wikimedia Foundation and US-based digital library Internet Archive in a defamation case over a two-part documentary on Prime Minister Narendra Modi.
Central forces are moving in as West Bengal is set to vote in panchayat polls
West Bengal is set to go to the polls on July 8 to elect 73,887 panchayat representatives, in a high-stakes contest seen as a critical indicator in the run-up to next year's general elections. Although 822 companies of Central forces were scheduled to be deployed for the polls, only 585 arrived in the State on Friday afternoon.
The Center is holding back-door talks with Kuki groups in New Delhi
The Central government has assured Kuki groups that those guilty of violence in Manipur will face the law, but made it clear that a political solution can only be achieved after the State returns to normalcy. Members of the Indigenous Tribal Leaders Forum and Manipur Tribal Forum Delhi met Intelligence Bureau (IB) Director Tapan Kumar Deka on July 7 at the North Block, Home Ministry offices in the capital.
Dutch Prime Minister announces resignation after ruling coalition fails to agree on migration policy
Dutch Prime Minister Mark Rutte announced the resignation of himself and his Cabinet on July 7, citing irreconcilable differences within his four-party coalition over how to curb migration. The decision by the Netherlands' longest-serving premier means the country will face a general election later this year for the 150-seat lower house of Parliament.
Words like fake, false, misleading in IT Rules problematic: Bombay High Court
The Bombay High Court on Friday said that words like "fake, false and misleading" that are part of the new Information Technology (IT) Rules are "problematic". The court further said, "Analysts may have their own figures. Is this fake news? I want to know what happens to editorial content online. You can find any editorial very difficult. For example, India's relationship with China. Words like fake, false, fraudulent are used in the amendment. We are concerned about the authority granted to the FCU."
'Assets worth only ₹80 lakh seized': CM accuses Modi, BJP of spreading lies about Sisodia
Hours after the Enforcement Directorate (ED) said it has provisionally attached assets worth more than ₹52.24 crore belonging to former Deputy Chief Minister Manish Sisodia and others in the Delhi excise policy case, the Chief Minister said Arvind Kejriwal that the value of confiscated assets belonging to Mr. Sisodia was only ₹80 lakh.
J&K to implement 'land to landless' scheme despite local opposition
The Lieutenant Governor's administration on July 7 hardened its stance on implementing the 'land to landless' scheme in J&K, as several political parties continue to oppose any move to settle "outsiders" in the Union Territory (UT).
Karnataka's Siddaramaiah presents 'Budget guarantee' with promise of welfare for all
For promoting inclusive development, Chief Minister Siddaramaiah on Friday presented a welfare-oriented Budget for the benefit of the common man by relaunching some discontinued schemes and offering loans to subsidize interest for marginalized people.
Death toll rises to nine in rain-related incidents in DK, Udupi districts
The death toll in rain-related incidents in Dakshina Kannada and Udupi districts in a week rose to nine on Friday. Meanwhile, schools and pre-university colleges in Dakshina Kannada and Udupi districts continued to remain closed for the third consecutive day on Friday, as the India Meteorological Department issued an orange alert in the coastal belt.
US destroys last of its declared chemical weapons, closing a deadly chapter since World War I
Workers at the Blue Grass Army Depot destroyed rockets loaded with the GB nerve agent that were the last of the United States' declared chemical weapons, completing a decade-long campaign to eliminate a stockpile that at the end of the Cold War was reached more than 30,000 tons, Republican Senate leader Mitch McConnell announced.
Verstappen leads British Grand Prix practice
Red Bull's Formula One leader Max Verstappen completed a British Grand Prix practice double at Silverstone on Friday with Ferrari close behind and Williams' Alex Albon looking blisteringly fast.
AAP, Congress discussed the next meeting of the Opposition, Ordinance
Aam Aadmi Party (AAP) national general secretary Sandeep Pathak said on July 7 The Hindu that the party had contacted the Congress to declare its support for the AAP's fight against the Delhi Ordinance.
Rahul Gandhi defamation case | How certain is 'Modi' as a 'collection of people'?
The battle for relief in the Rahul Gandhi criminal defamation case in the Supreme Court will revolve around the question of whether the term 'Modi' is an identifiable and specific group or collection of people. Mr. Gandhi, who faces a two-year sentence for criminal defamation, argued that "the real literature shows that the word 'Modi' does not denote any specific or clearly identifiable or specific group of person".
Sri Lanka see off sorry West Indies in qualifier dead rubber
Sri Lanka maintained their unbeaten record in the Cricket World Cup Qualifier as Pathum Nissanka's ton helped secure an eight-wicket victory over the West Indies on Friday. The defeat ended a miserable tournament for the Caribbean side, after previous losses to Zimbabwe, the Netherlands and Scotland.