Sports
Morning Digest March 20, 2023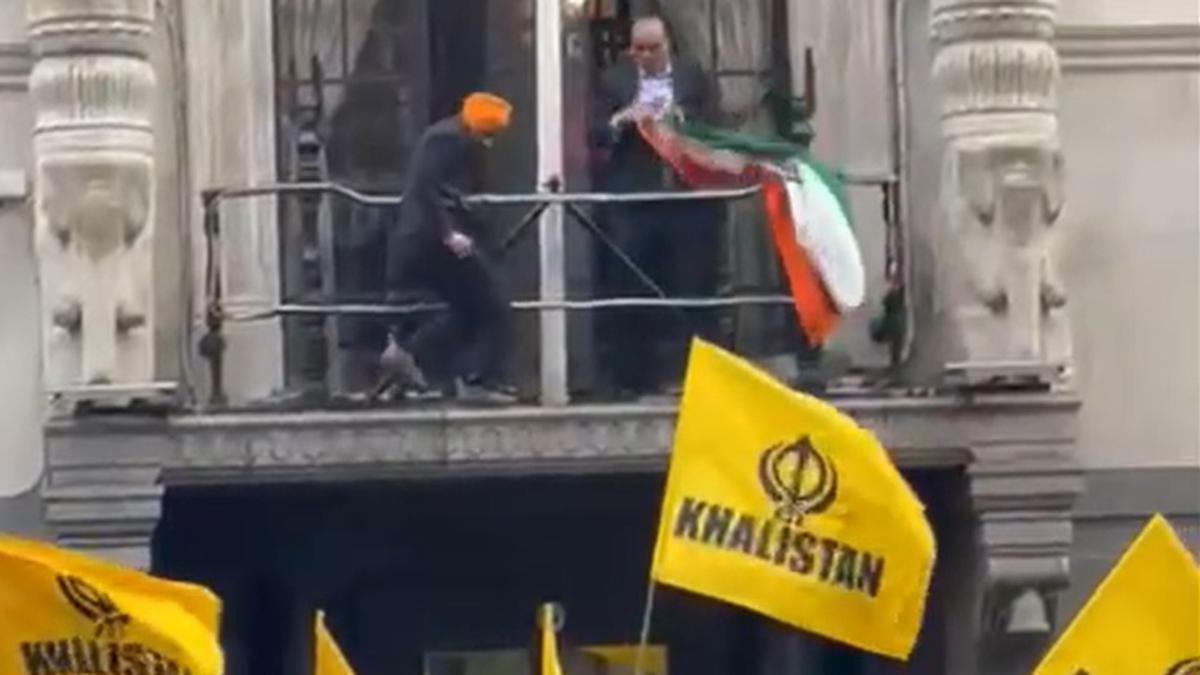 Khalistani protesters attempted to enter the Indian High Commission in the UK, while one protester climbed onto a balcony overlooking the street and carried the national Tricolour.
Khalistani protesters lowered the tricolour, tried to storm the High Commission in London
Filing a strong protest against the vandalization of the Indian flag outside the Indian High Commission in London by Khalistani protesters, and "indifference" by the British government, the Center summoned British Deputy High Commissioner Christina Scott to the Ministry of External Affairs (MEA) on Sunday night. Ms. Scott has sought an explanation and for a full inquiry, the MEA statement said, adding that the British government's attitude towards the security of Indian diplomats was "unacceptable".
Protesters, demonstrating against Punjab security forces' crackdown on the Waaris Punjab De (WPD) group, shouted Khalistani slogans, and attempted to enter the High Commission, while one protester climbed onto the balcony of Indian High Commission overlooking the street and lowering the national Tricolour.
Japan PM Kishida's agenda in Delhi: Linking G7 and G20, Ukraine, launching new Indo-Pacific cooperation
Japan PM Kishida will meet Prime Minister Narendra Modi and also deliver a keynote speech on Japan's Indo-Pacific strategy and its new defense posture, more than 15 years since PM Shinzo Abe first spoke about Indo-Pacific cooperation -Pacific on a visit to Delhi. Mr. also went for a walk together. Kishida and Mr. Modi to a park in Delhi to visit a revered tree with deep roots dating back to the time of Gautam Buddha.
The ruling party is likely to sweep the Kazakh parliamentary elections
Kazakhstan's votes in a snap parliamentary election on Sunday were widely expected to strengthen President Kassym-Jomart Tokayev's grip on power and complete a reshuffle of the ruling elite that began after he assumed full power last year.
Banking giant UBS acquired Credit Suisse for $3.2 billion
Banking giant UBS is buying its smaller rival Credit Suisse for $3.2 billion in an effort to avoid further turmoil in global banking, Swiss President Alain Berset announced late March 19, 2023.
Land grabbing issue | Visva-Bharati asks Amartya Sen to show cause why he should not be expelled
The Visva-Bharati university has issued a notice to Nobel laureate Amartya Sen asking him to show cause why an eviction order should not be issued against him for not vacating the 13 decimal plots he allegedly occupied illegally. occupied.
Nepal PM Pushpa Kamal Dahal 'Prachanda' is confident of winning the confidence vote on Monday
Nepal's Prime Minister Pushpa Kamal Dahal 'Prachanda' on March 19, 2023 expressed confidence that he will comfortably win a vote of confidence in the House of Representatives on March 20.
NSE insists all decisions are 'transparent' amid heat on Adani Group stocks
The National Stock Exchange (NSE) on Sunday issued a three-page statement to assert that its monitoring actions on individual stocks and decisions to include or exclude stocks in various Nifty indices are driven by "transparent" policies and rules without "human decision making" .
Putin praised China's willingness to help settle the conflict in Ukraine
President Vladimir Putin on Sunday welcomed China's willingness to play a "constructive role" in ending the conflict in Ukraine, saying Sino-Russian relations were "at an all-time high".
His Chinese counterpart Xi Jinping will travel to Russia on Monday hoping to deliver a breakthrough in Ukraine as Beijing seeks to position itself as a peacemaker.
Kosovo and Serbia failed to sign an agreement after marathon talks
Kosovo Prime Minister Albin Kurti and Serbian President Aleksandar Vucic spoke for nearly 12 hours at a summit in North Macedonia's Ohrid, opting for an 11-point plan announced by the EU last month. at a summit in Brussels.
But in the end, they failed to iron out the final agreement that the two could sign.
F1 2023 | Sergio Perez won the Saudi Arabian Grand Prix as Red Bull went 1-2
Red Bull dominated the second Formula One Grand Prix of the season in Jeddah on Sunday as Sergio Perez won after starting from pole position while team-mate Max Verstappen surged through the field from 15th to second.