Sports
Morning Digest | Over 13,000 detained in Manipur in past two weeks; Delhi braces as Yamuna river levels set to cross again, and beyond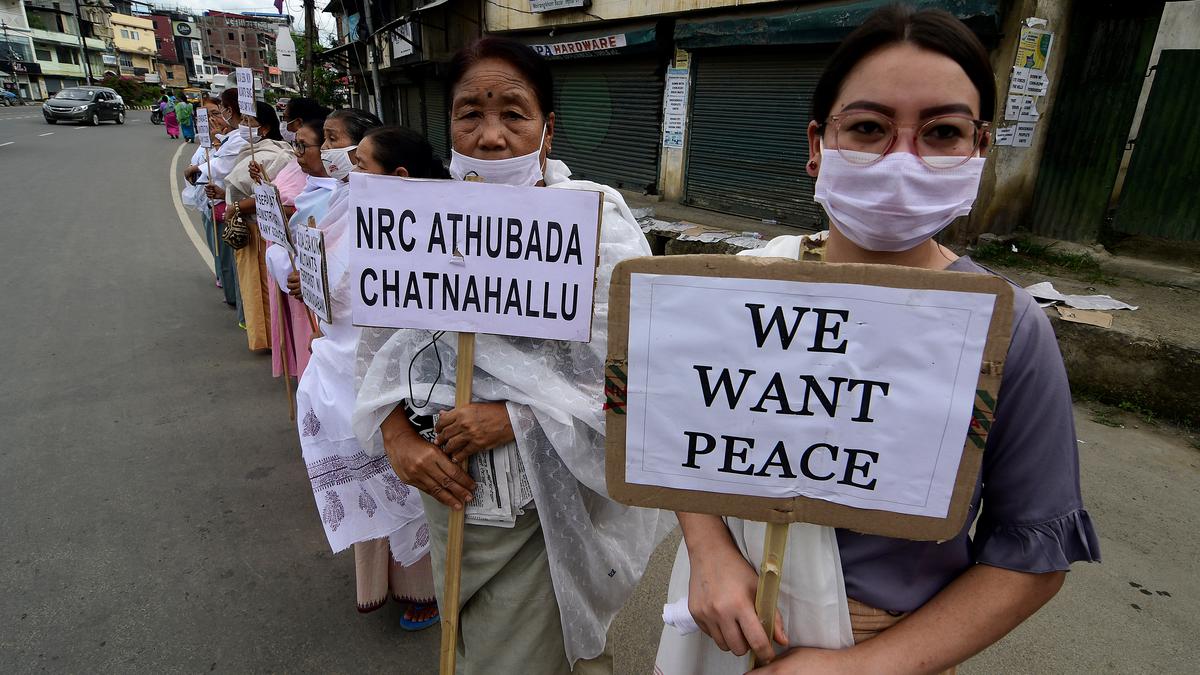 Meitei women protest against the ongoing violence in Imphal, Manipur on Sunday, July 23, 2023. | Photo Credit: Ritu Raj Konwar
More than 13,000 were detained in Manipur in the last two weeks; more suspects identified in the May 4 sexual assault case
The Manipur police have detained over 13,000 people, kept them in preventive custody, and destroyed nearly 290 bunkers in the past two weeks, to restore some semblance of law and order in the violence-hit State.
Delhi braces as Yamuna River water level crosses danger mark again
The Delhi administration is preparing for a possible repeat of the flooding seen 10 days ago, as the water level of the Yamuna crossed the danger mark again on Sunday.
Six died in various incidents as heavy rains led to floods in Gujarat
Unprecedented floods have claimed parts of Saurashtra region in Gujarat following incessant rains for the past three days.
Appeal to folded Opposition to join Parliament debate in Manipur: Union Minister Anurag Thakur
The Opposition Parties have planned a joint protest in Parliament on Monday over the situation in Manipur. They are seeking a statement from Prime Minister Narendra Modi in Parliament before starting a discussion on the issue.
ASI team in Varanasi, to begin scientific survey of Gyanvapi mosque complex on Monday
A team from the Archaeological Survey of India (ASI) arrived here on Sunday to conduct a scientific survey to determine whether the Gyanvapi mosque located next to the Kashi Vishwanath temple was built over a temple.
NIA files charge sheet against 9 accused linked to Babbar Khalsa International, Khalistan Tiger Force
The National Investigation Agency (NIA) on Saturday filed a charge sheet against three "listed terrorist individuals" and six others associated with banned terrorists, Babbar Khalsa International (BKI) and Khalistan Tiger Force (KTF).
Nepal's ruling Maoist party members begin visiting India as part of 'Know BJP' program
A five-member delegation of the Communist Party of Nepal (Maoist Center) began its six-day visit to India, from July 23 to 28, at the invitation of the BJP. The delegation led by Pampha Bhusal will spend two days in Uttarakhand and comes one and a half months after party leader and Prime Minister Pushpa Kamal Dahal 'Prachanda' visited India.
Spain's right is poised for a bitter victory as parliament adjourns
No party or bloc will win an outright majority in Spain's snap general election, according to late tallies with around 95% of votes counted on Sunday, despite the conservative People's Party (PP) on course to defeat the ruling Socialists.
India declare 2nd innings at 181/2, give WI target of 365 to win second Test
India declared their second innings at 181 for 2 in the final session on day four, giving West Indies a tough target of 365 to win the second Test here on Sunday.
Pakistan's long-term goal is top rankings, says coach ahead of 2nd test vs Sri Lanka
Speaking to reporters ahead of the second test starting Monday, Pakistan head coach Grant Bradburn said Pakistan's long-term target is to become a top-ranked team. Pakistan are currently ranked sixth and a 2-0 series win would help them close ranks with fifth-placed New Zealand.
Formula One | Max Verstappen delivered Red Bull's record win at the Hungarian Grand Prix
Max Verstappen dominated Sunday's Hungarian Grand Prix to take his Red Bull team to a record-breaking 12th consecutive Formula One victory.
Morocco, Benzina is set to make Women's World Cup history in a game against Germany
The 25-year-old defender will be the first player to wear the Islamic headscarf at the senior-level Women's World Cup. She and the Atlas Lionesses face two-time World Cup champion Germany in Melbourne, Australia, on Monday.
Bowlers focus on pace as Deodhar Trophy returns after four years
The focus will be on the players, especially the pacers, who are likely to form the core of India's white ball and A team when the Deodhar Trophy begins in Puducherry on Monday.