Sports
Sai Sudharsan says calm approach helped him score 96 against CSK in IPL final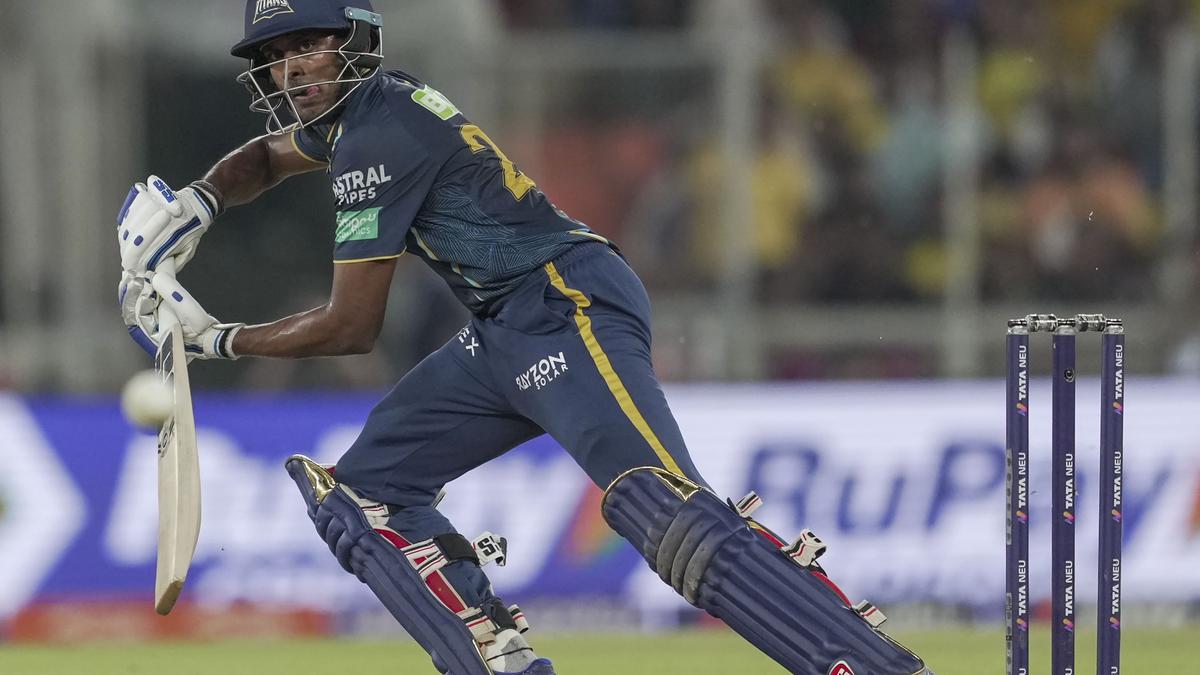 Gujarat Titans batsman Sai Sudharsan during the IPL 2023 cricket match between Gujarat Titans and Chennai Super Kings, at the Narendra Modi Stadium in Ahmedabad, on May 29, 2023. | Photo Credit: PTI
Gujarat Titans batter B. Sai Sudharsan has credited his spectacular 47-ball 96 in the IPL final against Chennai Super Kings to a calm approach to his batting, saying his focus on the mental aspect of game has paid dividends.
Sudharsan's strokeful 96, accompanied by eight fours and six sixes, took GT to 214 for four and raised hopes of back-to-back titles. But Ravindra Jadeja smashed a six and a four off the last two balls to help CSK chase down a revised target of 171 from 15 overs in Monday's rain-affected summit clash.
"I felt a lot of pressure in the last game. I realized that being calmer is better and I have the ability to do better. I felt a bit more calm in this game," said Sudharsan in the post-match press conference.
The 21-year-old Sudharsan said retiring in Qualifier 2 against Mumbai Indians when he was 43 was "personally worrying" but he knew it was a team decision.
"Personally, it's definitely worrisome, but it's a team decision and the way our batters are hitting after Nos 3, 4, and 5, they've been explosive this season. I think that's pure and simple. the team's decision. It was definitely for the team's cause and I am hundred percent with it," he said.
Asked about his batting approach in the final, the left-handed batter from Chennai said, "When Shubman (Gill) came out, it was all about taking the game a little deeper and keeping a check on the scoreboard as well. I tried to take my chances and also take the game deep.
"It was more about the mental aspect, how to get ready, how to be aware or how to decide what to do in that situation. I worked a bit on that and obviously it's also in the skill part."
Sudharsan finished as GT's second most prolific batter, scoring 362 runs in eight matches with three fifties at an average of 51.71 and a strike rate of 141.40.
"Actually, (I) am very happy and grateful to have contributed to the team, but also a little sad because the result was not on our side," said Sudharsan who was rated highly by senior players like Ravichandran Ashwin.
He also credits GT and Tamil Nadu team-mate Vijay Shankar for providing his valuable inputs.
"We have discussed a lot of cricket, particularly this IPL. We have shared thoughts with each other and it has helped me a lot. Even after the last game, he gave me some thoughts that were very useful for me to follow." Gujarat Titans team director Vikram Solanki said he won't take anything away from CSK, who beat his team to equalize the record. fifth IPL title.
"It might have been done, but I won't take anything away from CSK. Not now. They were champions and they deserved to be champions. We did everything we could, we took the game to the very last ball.
"The game is constantly changing. We've been pretty outstanding with the bat whether the conditions have changed or not, that's a conversation you can continue to have but I'm not going to take anything away from what's been achieved side," said Solanki.
Solanki said star spinner Rashid Khan might have an off day in the final, conceding 44 runs in three overs, but that was part of the sport.
"Today's performance was definitely not his best, but sometimes that happens in sports. He (Rashid) is a wonderful member of the team and an outstanding cricketer in the team, he has been a big part of the last two seasons that we have," he said.