Sports
The wrestlers are reuniting after Sunday's action, to decide on future strategy as soon as possible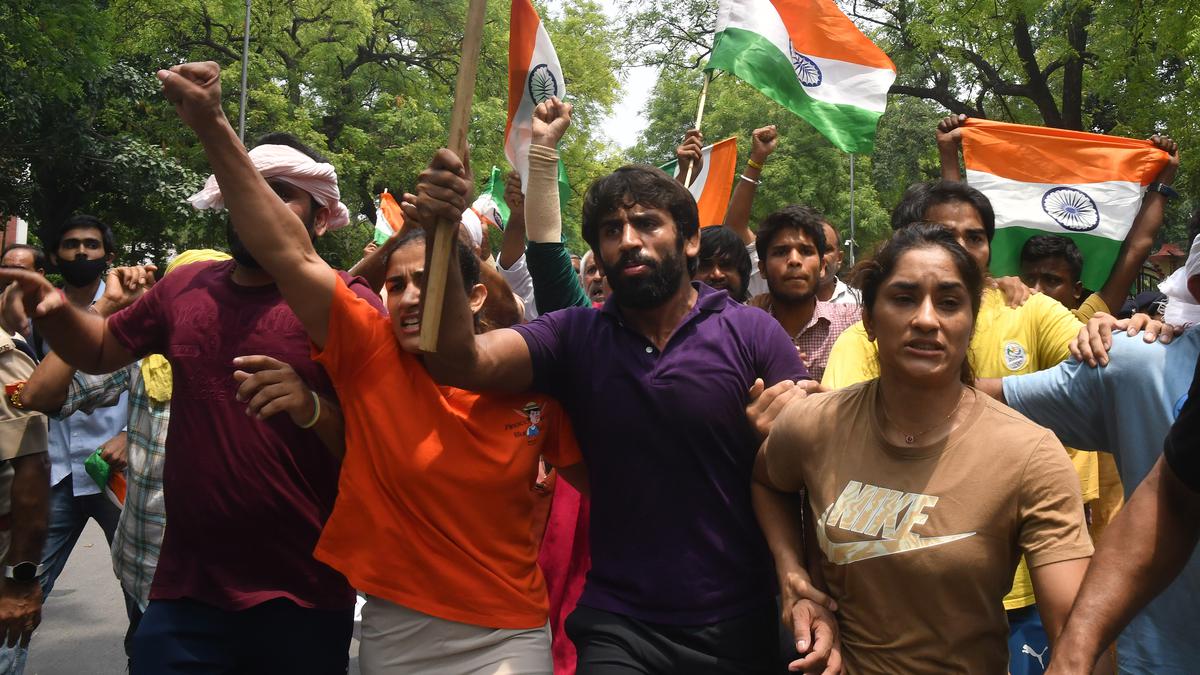 Wrestler Vinesh Phogat, Bajrang Punia and Sangeeta Phogat with others during their protest march from Jantar Mantar to the new Parliament building in New Delhi on May 28, 2023. | Photo Credit: Sushil Kumar Verma
A day after the police action in which their protest site was cleared and they were detained, the protesting wrestlers held discussions among themselves on Monday to decide their strategy to maintain the agitation against the leader of Wrestling Federation of India (WFI) Brij Bhushan Sharan Singh, accused. of sexual harassment.
Speaking to The Hindu, Sakshi Malik said that the wrestlers and organizers came together again and held meetings throughout the day to work out the strategy. "The whole country saw what happened yesterday. This is an example of dictatorship. But that will not stop our struggle. We are discussing many ways to continue the chaos and we will have a decision tomorrow [Tuesday]," he says.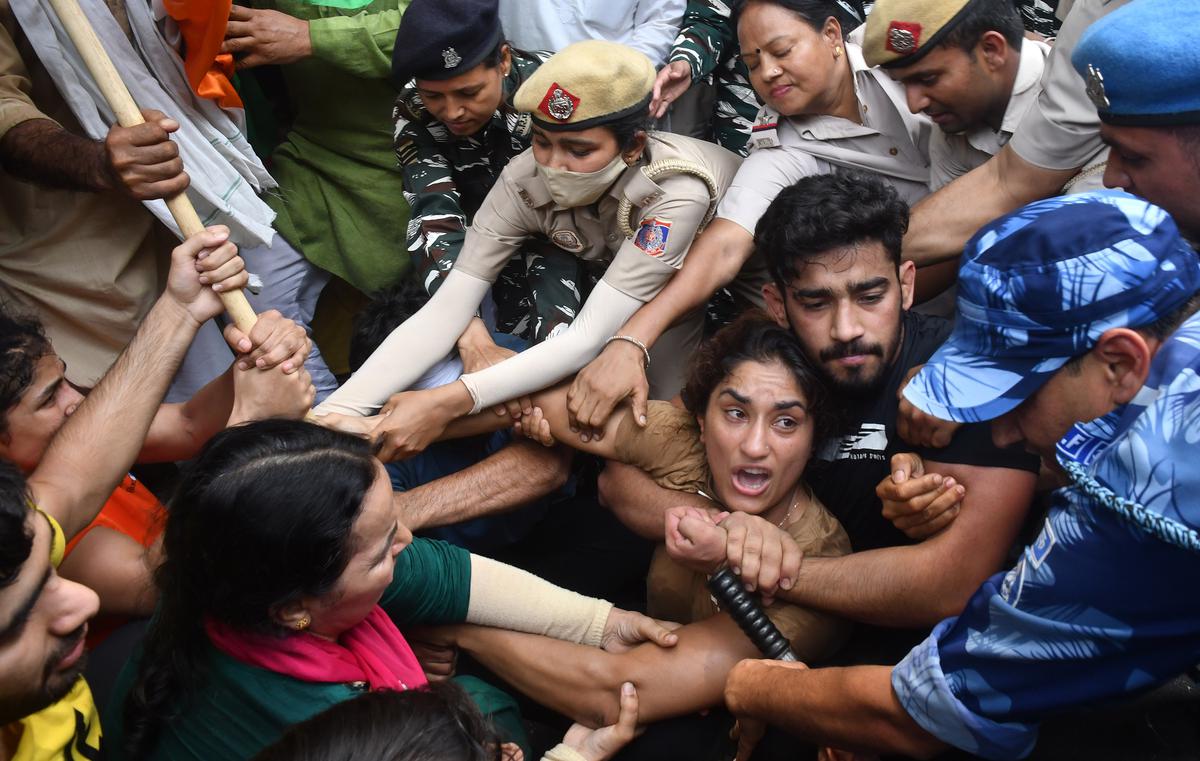 Wrestlers Vinesh Phogat and Sangeeta Phogat along with others were detained by security personnel on May 28, 2023. | Photo Credit: Sushil Kumar Verma
On Sunday, top wrestlers like Sakshi Malik, Vinesh Phogat and Bajrang Punia were among over a hundred protesters detained by the Delhi Police from Jantar Mantar after they decided to march towards the new Parliament building, during the ceremony of its inauguration, to hold a 'mahila mahapanchayat'.
Shortly after the detention, the police dismantled their tents, removed their belongings such as beds, mattresses, cooler fans, and tarpaulin ceilings, and cleaned the area where the protest had been held since April 23. Released the women protestors in the evening and men later in the night from the various police stations where they were detained.
The discussions on Monday were also attended by Ms. Phogat, Mr. Punia, wrestler Satyawart Kadian and others.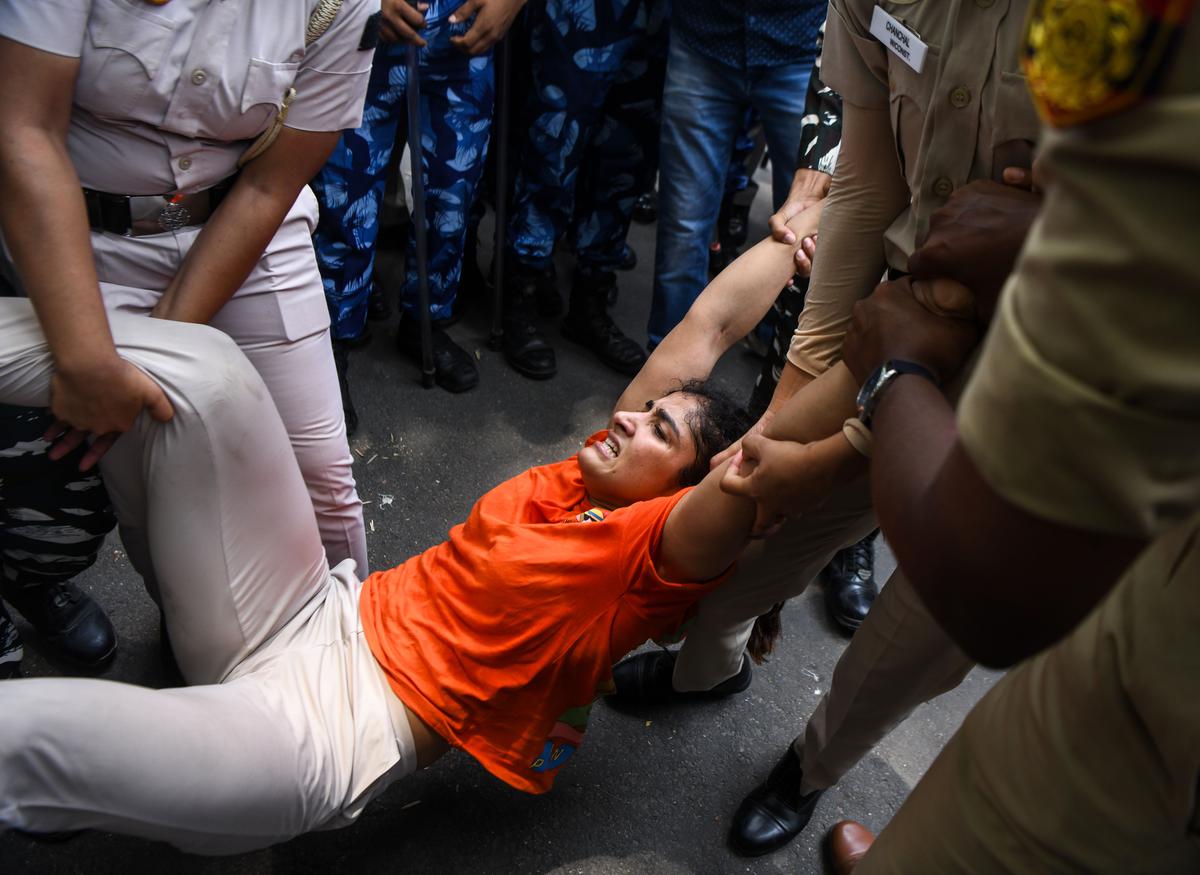 Police personnel detained wrestler Sangeeta Phogat during a protest march from Jantar Mantar to the New Parliament building against alleged sexual harassment of women wrestlers by WFI leader Brij Bhushan Sharan Singh , in New Delhi on Sunday. (Photo by ANI/Amit Sharma) | Photo Credit: ANI
"Last night was sleepless, haunted by horrific images of my fellow Indian wrestlers protesting," Bindra tweeted, even as India's most successful footballer Sunil Chhetri and former India all-rounder also criticized the action against wrestlers. "It is time that we establish independent safeguards in sports organizations. We must ensure that when such situations occur, they are dealt with with the utmost sensitivity and respect. Every athlete deserves a safe and empowering environment," added Bindra, the 2008 Beijing Olympics gold medalist. in the air rifle.Mr. Kadian said that their respective careers are now in jeopardy. "Career to ab khatre me path chula hai. So, we will not back down now. We cannot go to Jantar Mantar now because there is a heavy force deployment there, but we will decide how to continue the protest," he said, adding that they were also in touch with farmers and khap leaders.
The police on Monday said they would not allow the wrestlers to return to Jantar Mantar for rioting and accused them of creating a "riot-like situation". "They crossed all the limits today [Sunday]. We cannot risk having them here so close to Parliament and government offices. They don't listen to anyone," said Special Commissioner of Police (Law and Order Zone 1) Dependra Pathak.
The police also registered an FIR against Ms. Phogat, Ms. Malik, Mr. Punia and others for allegedly assaulting public servants, rioting, vandalizing public property among other charges.
Mrs. Malik, on Twitter, slammed the move and said that it took the Delhi Police seven days to file an FIR against the WFI chief but not even seven hours against the protesters.
"It took 7 days for Delhi Police to register an FIR against Brij Bhushan who sexually assaulted girls and it didn't even take 7 hours to register an FIR against us for peaceful protest. Has the dictatorship started in this country? The whole world is watching how the government treats its players," she tweeted.
Mr. Kadian denied the police allegations and said the protesters were peaceful and did not damage any public property or injure any personnel. "At least 20 policemen are dragging a protester. We had scratches and bruises. I don't know what all the Sections they added to the FIR," he said.
Gopal Tiwari, one of the organizers and supporters of the protest, said earlier in the day that the wrestlers were left distraught after Sunday's action. "But their will did not stop," he said, adding that all supporters continued to stand with them.